"I Was in for a Rude Awakening": Colin Kaepernick Once Detailed the Journey of His Birth as a Leader Who Eventually Made Donald Trump Rethink
Published 03/13/2023, 7:21 AM EDT

Follow Us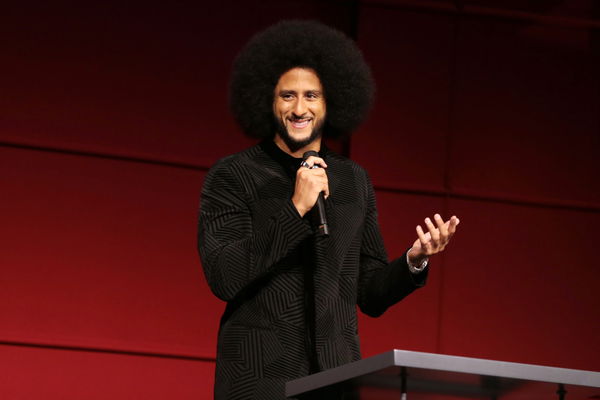 It has been six years since Colin Kaepernick knelt on the field. And since then, the former 49ers QB hasn't been able to come back to his professional playing career. His act of protest that voiced his feelings about racial discrimination was a topic of contention. Since then, Kaepernick has become an activist, fighting against injustices.
In his quest to bring awareness, the former QB has undertaken many projects. They have delved into the personal experiences that shaped his beliefs. The Netflix docuseries, 'Colin in Black & White,' explored the events that shaped his stance on social justice. The former QB opened up about the instances that contributed to the dawning of his realization. Here's what he said.
Colin Kaepernick dove into the experiences that shaped him
ADVERTISEMENT
Article continues below this ad
Over the course of the last few years, Colin Kaepernick has gained more attention for his actions concerning social justice than he ever did during his playing career. Opening up about his early experiences, the QB presented fans with his perspectives on why he sees things the way he does.
Kaepernick spoke of his adoptive parents and the white privilege he assumed was passed on to him. But his experiences with people said otherwise. He said, "Growing up with white parents, I moved through life with their audacity of whiteness. I assumed their privilege was mine. I was in for a rude awakening." The docuseries explored Kaepernick's teenage experiences that made him realize that the privilege that was freely given to others did not uphold the same value because of his race.
ADVERTISEMENT
Article continues below this ad
For example, an instance of a manager approaching his parents to question them if he [Colin Kaepernick] was bothering them because of the assumption that he was a stranger due to the lack of familial resemblance- was one vivid memory of being treated differently. Experiences like this one began to shape the QB's worldview and ushered in the unfortunate realization that a clear distinction was ever-present. Embarking on his pursuit to bring change, Kaepernick managed to catch the attention of, at the time, one of the most powerful men in the world.
The Kaepernick-Trump saga
In 2017, President Donald Trump was unimpressed by Colin Kaepernick's refusal to stand during the national anthem. Speaking of the former QB, he stated, "Wouldn't you love to see one of these NFL owners, when somebody disrespects our flag, to say, 'Get that son of a bi**h off the field right now. Out! He's fired. He's fired!'" However, his statements held a different narrative a couple of years down the line.
ADVERTISEMENT
Article continues below this ad
Three years later, Trump circled back on the conversation and said that he would love to see Kaepernick get another shot at a career in the league. It's no secret that the QB has shown interest in coming back to the league after he was released because of the nationwide upheaval concerning his actions. Do you think Colin Kaepernick has a chance at reviving his NFL career? Let us know in the comments!
WATCH THIS STORY: Tom Brady reveals the worst kept secret about NFL holdings
Edited By: Deepika Bhaduri