"If I Shook His Hand, He'd Be Like…": Patrick Mahomes Packs a Perfect Punch on Michael Jordan, Stephen Curry Comparison
Published 12/04/2022, 8:30 AM EST
Every great player in any sport is compared to those who came before him. And sometimes even across sports, too. Patrick Mahomes is one of the best quarterbacks of his generation, to say the least. He is often compared to many former NFL legends who played his position.
But recently he opened up about another comparison. Mahomes packed a perfect punch to settle the debate upon comparison with NBA legends Michael Jordan and Stephen Curry.
Patrick Mahomes likes the Stephen Curry comparison
Patrick Mahomes appeared on his friend and teammate Travis Kelce's podcast 'New Heights' with Travis and his brother and Philadelphia Eagles Center Jason Kelce. While there, he talked about numerous things. One of which was his comparison to NBA legends like Stephen Curry and Michael Jordan. And he picked up his favorite among the two.
ADVERTISEMENT
Article continues below this ad
"I hate talking about myself, but my favorite one is the Steph one because I feel like Steph brought a different style of basketball to the game, and I want to try to bring it to where it's not quarterback, that's what I've tried to do is make it where everybody can play it in different ways," Mahomes said.
Like Stephen Curry changed the game of basketball with his style, PM15 has certainly impacted the way an NFL quarterback operates. Mahomes' passing game is second to none. But he can also take off if the defense puts a lot of pressure on him. And he can still throw a pinpoint pass even while running. So, he is a dual-threat QB who keeps the defense guessing. 
On the Michael Jordan comparison
While Patrick Mahomes likes to be compared to Stephen Curry, there is another comparison that he thinks he is not worthy of. And that is the biggest NBA superstar, Michael Jordan. The QB told the Kelce brothers that he cannot ever be as fierce a competitor as the Chicago Bulls legend was.
ADVERTISEMENT
Article continues below this ad
"Michael Jordan, I feel like I don't even have that competitor that he had man," Mahomes said. "After watching The Last Dance and seeing that, I feel like I try to be that, but that's one of a kind. I mean, to be that competitive at all times. Like, if I shook his hand he'd be like, 'I can shake my hand tighter than you can shake your hand.' I mean, that's just the type of guy he is," Mahomes said about the Jordan comparison.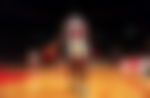 Whoever you compare the QB to, one thing is for certain: Patrick Mahomes is certainly the best quarterback of his generation, if not more. And he certainly has a lot of time to leave a legendary legacy at the Kansas City Chiefs. Like MJ left at the Bulls in the NBA.
ADVERTISEMENT
Article continues below this ad
Watch This Story: Patrick Mahomes and Travis Kelce are the dream SNL hosts as per this cast member
Edited By: Gurjyot Singh Dadial