"If You Try Him, He's Going to Try You"- Former Green Bay Packers Man Talks Up Aaron Rodgers
Published 12/04/2020, 5:01 PM EST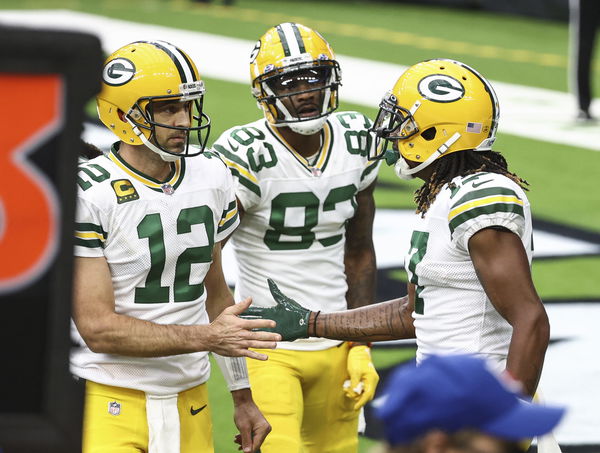 The Matt LaFleur-led Green Bay Packers are currently sitting at the top of the NFC North Division table above rivals Minnesota Vikings. A major reason behind their rise is the dominance of veteran quarterback Aaron Rodgers.
They are on an 8-3 record heading into Week 13. Rodgers was impressive in last week's win against divisional rivals Chicago Bears.
The California-born quarterback threw for 211 yards with 4 passing touchdowns in 2020. He is on track to make a run for the NFL MVP award along with stars such as Patrick Mahomes, Russell Wilson, and Ben Roethlisberger.
ADVERTISEMENT
Article continues below this ad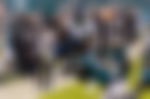 Aaron Rodgers continues to prove his doubters wrong
The latest guest to appear on the Speak For Yourself show was former Green Bay Packers player Greg Jennings. Jennings spent 6 years playing alongside Rodgers and is one of the people who has spent an ample amount of time with him in the locker room.
"This is what he does, man. He's gonna, he's gonna always give you that subtle punch. If you try him, he's gonna try you.
"But no, what he's saying is, this team didn't know that he was going to be playing at this level, they didn't know that the relationship, if you will, would have been what it is right now currently as it stands, and that is very, very good.
"Both Matt LaFleur and Aaron Rodgers have gotten along great. LaFleur has done a great job of holding his ground, but also understanding, 'I have a future Hall of Famer. So I'm going to have to defer I'm going to have to give and take I'm going to have to allow this offense to become ours collectively'.
ADVERTISEMENT
Article continues below this ad
"I didn't believe that that was going to be the case going into this…we all understand that we can't all be Tom Brady, we can't all be LeBron James," Jennings said on the show.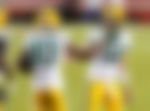 Aaron Rodgers is definitely on one of the best runs of his longstanding career in 2020. The 2-time NFL MVP winner is building something great in Wisconsin in 2020.
ADVERTISEMENT
Article continues below this ad
Even at 37, Rodgers is breaking records and setting milestones. Will he go down as the greatest quarterback of all time? Only time will tell.