'I'll Always Have Super Bowl 50': Von Miller Reacts to Being Traded to Los Angeles Rams
Published 11/02/2021, 5:41 AM EDT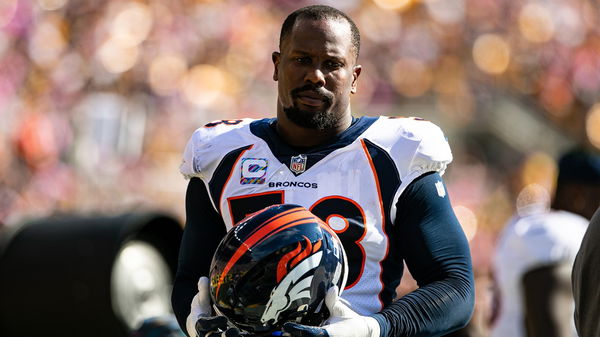 ---
---
Denver Broncos have agreed upon a trade with the Los Angeles Rams to exchange eight-time Pro Bowl linebacker, Von Miller, with a second-round pick and third-round selection in the 2022 NFL draft on Monday.
ADVERTISEMENT
Article continues below this ad
According to ESPN's Adam Schefter, the Broncos will also pay the remaining $9 million of Miller's $9.7 million base salary, for the nine games left in the regular season.
ADVERTISEMENT
Article continues below this ad
Von Miller on leaving Denver Broncos
Von Miller, on his way out of the Bronco's facility on Monday, sitting in the back seat of an SUV, told reporters he was shocked to hear the news of his trade. The linebacker seemed emotional on his departure from the team with whom he won the Super Bowl L in the 2015 season.
"It's still hard — you can't really put it into words," Miller said. "Somebody told me once you want to make God laugh, then make plans. You've just got to keep going, keep taking it one day at a time. I've got a beautiful baby boy, had a lot of beautiful years here, lot of great memories, lot of great teammates, lot of great coaches, lot of great fans."
"Always have Super Bowl 50 — seeing the pictures when I was walking out made me tear up," Miller said. "We always got Super Bowl 50, always got Broncos Country and got to keep going… When I said, 'Broncos for life,' I meant that — it will always be in my heart… It was an honor and privilege to play here. John Elway picked me and it was life changing."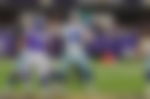 Los Angeles Rams with Miller is a match made in heaven
But the linebacker is also excited to have a new start to his career with his favorite team. "Great team — I've been a huge fan of [defensive tackle] Aaron Donald for a long time. They got a great defense… I'm excited, always been a great teammate and I'm going to continue to do that," Miller said.
ADVERTISEMENT
Article continues below this ad
Miller threw a Halloween party for teammates and friends Sunday night, yet the very next morning he was at the suburban Denver complex to bid adieu to his coaches and teammates one last time before leaving for Los Angeles.
The 32-year-old linebacker has built an impressive resume during his days with the Broncos. He is one of the most celebrated players in the team history with eight Pro Bowl selections, three first-team All-Pro selections, a Super Bowl MVP and a Super Bowl win.
ADVERTISEMENT
Article continues below this ad
But now with him going parting ways with the franchise, it is time for him to write another piece of history, this time with the Rams. And as the Rams host their next week clash against the Titans, the OLB hopes to make it to the starting spot by then.