'I'm a Hugger': Aaron Rodgers Responds Casually to Backlash From Hugging Erin Andrews After Socially-Distanced Interview
Published 01/05/2022, 8:28 AM EST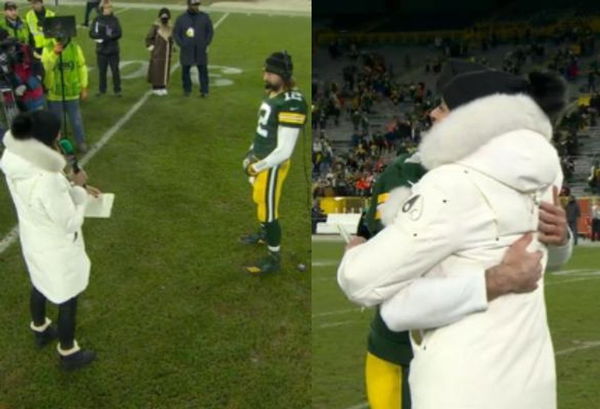 Aaron Rodgers is certainly making headlines for his phenomenal run with the Green Bay Packers. But he has also made a few headlines this season for his hilarious and controversial interviews as well. Recently, the quarterback faced backlash again for his interview with NFL reporter Erin Andrews.
Rodgers after defeating the Cleveland Browns 24-22, claimed the No. 1 seed in the NFL. And none other than his longtime friend and a charming reporter Erin Andrews took his post-game interview. After the well-conducted socially distanced interview, where the reporter and the quarterback were standing eight feet apart. Rodgers shook the hands of Erin Andrews and hugged her, with no regard for the rules.
ADVERTISEMENT
Article continues below this ad
Aaron Rodgers on his controversial hug with Erin Andrews
And then started a series of comments criticizing Rodgers for his act. Rodgers has also been involved in a COVID controversy earlier this season when the quarterback admitted his mistake for misrepresenting his vaccination status. The reigning NFL MVP during his most recent appearance at 'The Pat McAfee Show' finally broke his silence and responded to those backlashes he had faced earlier.
Green Bay QB Aaron Rodgers and Fox reporter Erin Andrews conduct a "socially distanced" post game interview, then share a hug.

I have no problem with the embrace at all. I do have a problem with the mental gymnastics, pearl clutching of the outdated Covid protocols and theatre. pic.twitter.com/a2lwzCECs6

— Brad Logan (@BradLoganCOTE) December 27, 2021
"Look, I've known EA for a long time and I think the whole thing is obviously a little bit strange. You've got to do some eight feet apart interview," Rodgers said.
ADVERTISEMENT
Article continues below this ad
"And that's my friend. That's the same way I'd hug a friend seeing them on the field, or hug a guy on the opposing team that you have respect for and you play against. Look, I do what I'm told in those situations about keeping distance, but I'm a hugger and I enjoy seeing my friends post-game."
ADVERTISEMENT
Article continues below this ad
Although it is very well known that the friendship between Aaron Rodgers and Erin Andrews goes way back. But is it necessary to break the NFL regulations and then defend it the way Rodgers did? Let us know in the comments below!