"I'm Looking at the Picture… and I Said…": Cowboys Legend Michael Irvin Isn't Buying In on Jerry Jones' Leaked 1957 Desegregation Photo
Published 12/01/2022, 4:30 PM EST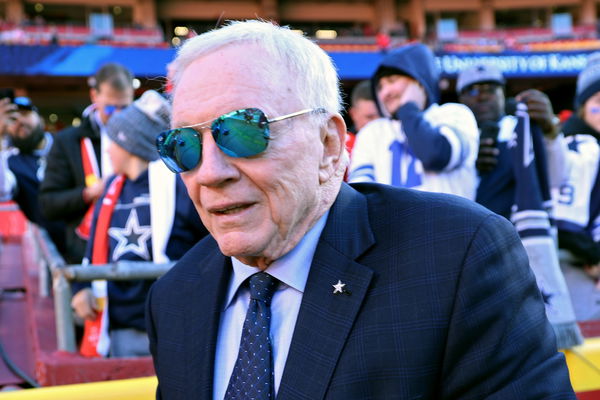 Jerry Jones is facing a backlash from the cancel culture because of a single photograph. The image dates back to when the Cowboys' kingpin was a kid in Arkansas. The resurgence of the picture after 65 years led to an all-out frenzy on social media. The franchise owner has gone through a lot of criticism. But a Cowboys legend is backing Jones over the 1957 desegregation photo.
Former Cowboys WR Michael Irvin joined 105.3 The Fan with Shan, RJ, and Bobby. They talked about how the Cowboys will incorporate Odell Beckham Jr. into the offense. Moreover, he defended Cowboys owner and GM Jerry Jones after the Washington Post published a photo from 1957.
ADVERTISEMENT
Article continues below this ad
Michael Irvin mentioned, "I'm looking at the picture. I see the pictures sent to me right away, and I said, Okay, all right. What is this? I'm looking at the picture of Jerry sitting in the back, and it was in Arkansas, back in 56-57 whenever that was. Everybody in the south was a certain way back in those days. That's just what it was; everybody in the south was somewhere. I don't see Jerry in front of that line like I see that dude with the cigarette."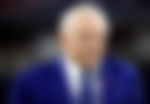 "I'm like, if anybody knows you, oh my god. If you got any kind of thing going, they're going to kill you. But Jerry look like a curious 14-13-year-old kid that was looking and his face didn't look like he was there for battle. Not like the cigarette dude. He didn't look like that," He added.
Further in the interview, Irvin praised Jerry Jones, saying that people are trying to make a false notion out of one image.
Jerry Jones reacts to the contentious picture from the 1957 protests
ADVERTISEMENT
Article continues below this ad
The football world went into overdrive after The Post shared an image from the 1957 protests at Arkansas High. The discovered photograph shows a 14-year-old Jerry Jones wearing a striped shirt and searching around. The press surrounded Cowboys owner Jerry Jones, who confirmed his presence in the crowd.
Member of Little Rock 9 reacts to 1957 photo that has #Cowboys owner Jerry Jones in the hot seat.
Jones told reporters he was being a "curious kid" saying "I've got a habit of sticking this nose, right place at the wrong time." @FOX4 pic.twitter.com/geL3yXaEoL

— Steven Dial (@StevenDialFox4) November 26, 2022
ADVERTISEMENT
Article continues below this ad
According to ESPN, Jones stated he was oblivious to the famous moment that was taking place at the time. He believes it is a long way from that. The incident would also remind him to make sure such things do not happen. Moreover, it would remind Jones to proceed with doing everything workable to prevent such incidents.
Watch this story: Tom Brady Went to The Same High School As This Controversial MLB Hall of Famer Who Was Also A 14x All-Star
Edited By: Deepika Bhaduri