"I'm Not Saying This Because My Son Is the Coach There": Former GM Strikes Days After Kelsey Plum Torched Raiders HC Josh McDaniels for Trading Husband Darren Waller Soon After Wedding
Published 03/19/2023, 12:16 PM EDT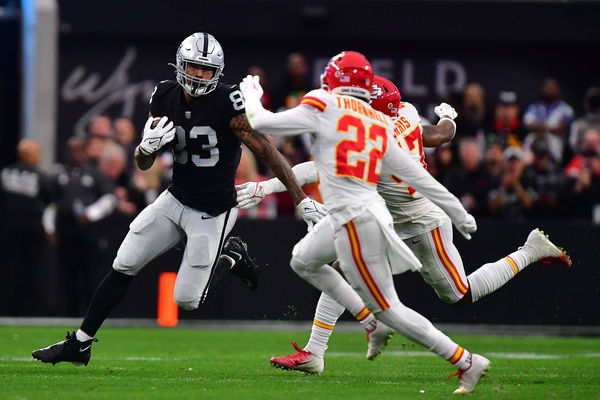 Recently, the Las Vegas Raiders traded their TE Darren Waller to the New York Giants. This came as a surprise to both the Waller and the NFL world, as he recently signed a three-year $51 million extension with the Raiders back in September. In this surprise move, the Raiders traded Darren Waller in exchange for a third-round draft pick. This was a low-risk high reward move for the Giants, who are building their roster around QB Daniel Jones for the upcoming 2023 season. But what could be the probable reasons for this spontaneous trade by the Raiders?
Former GM Michael Lombardi opened up about the scenarios that led to this outcome for Darren Waller.
Lombardi opens up about the reasons behind the trade of Darren Waller
ADVERTISEMENT
Article continues below this ad
In an episode of the podcast the GM Shuffle, NFL insider Michael Lombardi talked about the reasons why the Raiders decided to move on from their Pro Bowl TE. According to Lombardi, the team perceived that Darren Waller lacked the commitment to recover from the injuries he sustained. Waller was ridden with multiple injuries in the past two seasons, as he appeared only in 20 games for the Raiders overall. 
Lombardi further talked about how after the Raiders redid Waller's contract, he went home for four days and accrued the fines. Darren Waller and Kelsey Plum tied the knot recently in a private wedding ceremony earlier this month. According to Lombardi, Waller just went home without a word with anybody on the team.
He said, "On the bye week, you went home and just didn't talk to anybody. Just went home and left a message saying 'hey, fine me. I don't care. I'm going to southern California'." He further said, "Ok. Go ahead, but does that tell you as a coach that would want to win? Where does that come from? These are the things people don't understand. It's always the players are right, the coaches are wrong and I'm not saying this because my son is the coach there."
Kelsey Plum goes off on HC Josh McDaniels
ADVERTISEMENT
Article continues below this ad
It may be noted that Waller and head coach Josh McDaniels were not on the best of terms. Darren Waller and Kelsey Plum tied the knot on March 4 and kept the wedding ceremonies private. But McDaniels told the press about the wedding at the NFL Scouting Combine. This left Waller upset with his coach. His wife also took a shot at McDaniels, saying that Waller got traded because they didn't invite McDaniels to the wedding.
ADVERTISEMENT
Article continues below this ad
Whatever the reasons may be, it set the future for Darren Waller. Fans will now see him flaunt the jersey of the Giants. The TE will try to make a comeback into the NFL, after a long-fought battle with injuries throughout the past two seasons.
Watch this story: NFL star's wife takes aim at team's coach for trading husband right after wedding
Edited By: Gideon Mathson