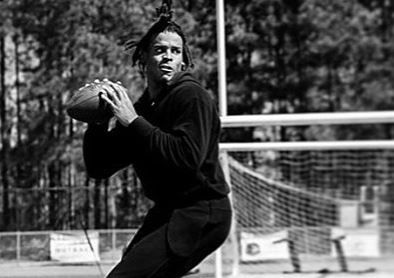 Cam Newton is not one to filter his words. That was clear before he even signed for the New England Patriots. The former Carolina Panthers man has been grabbing headlines this week for various reasons. Rumors surrounding his contract clauses and potential injury niggles are doing the rounds. Amidst all this chaos, Cam recently uploaded a short video on his official Instagram handle on Sunday. Here's what the former NFL 2015 MVP award winner had to say to all his critics.
Cam Newton's unapologetic post on Instagram raises eyebrows
At the very start of Cam Newton's video, he takes a shot at former employers – Carolina Panthers. Cam said "You going to choose that (Terry Bridgewater) over this? I'm really a monster but I'm going to say this. I'm getting tired of being humble now."
"I'm really a killer, I'm really a killer, you feel me? I'm tired of all this humble shit. When you humble, they start taking advantage of you. When you don't say nothing, they start taking advantage of you."
He does not stop there. The dual-threat Quarterback further goes on to give an 'Animal Kingdom' analogy where he refers to himself as the 'King of the jungle'. "But the hyena, they be doing all what they do. The elephant they be doing what they do. The giraffe, the antelope, the chimpanzee even the gorilla. But there's one m***********n animal in the jungle. When he roar, everything stops. And I'm about to m**********n roar," he added.
Cam does talk a big game but that's just who he is. However, critics will argue that his recent stats prove otherwise. The former NFL MVP and Pepsi NFL Rookie of The Year award winner is not the same man he was back in 2016.
How will the Patriots offense look like with Cam Newton as the star quarterback?
Starting QB? Undrafted gems?
Rising vets? Emerging leaders? @MikeDussault19's 20 burning roster questions heading into 2020: https://t.co/9ZDlCYxxhQ

— New England Patriots (@Patriots) June 11, 2020
New England Patriots' offensive coordinator – Josh McDaniels – will welcome Cam's addition to the roster. Cam's dual attacking ability will give McDaniels a different option going forward this season as compared to the traditional Jarett Stidham.
Stidham, who's offensive skill set is similar to that of Tom Brady, is not known as a rushing Quarterback. Newton, on the other hand, is hard to defend against when he builds up steam in the centre. However, Bill Belichick and the rest of the Patriots coaching staff will agree that their strength this season, lies in their defense.