"I'm Still Hoping" – Lamar Jackson Talks Up Antonio Brown NFL Return
Published 07/29/2020, 7:56 PM EDT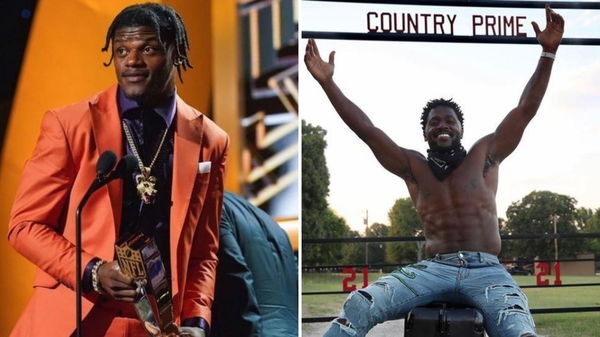 ---
---
The 'Antonio Brown conundrum' is one that has puzzled multiple NFL fans over the course of this offseason. The former Pittsburgh Steelers wide receiver has been without an NFL team since the New England Patriots contract was terminated in 2019. However, he was rumored to be edging towards a return to the league.
ADVERTISEMENT
Article continues below this ad
After settling his off-field legal concerns, Brown was working towards securing a move to the NFL. He was also seen practicing with Seattle Seahawks quarterback Russell Wilson earlier this offseason.
The NFL veteran was then seen training with a High School quarterback in Florida, which added fuel to the fire as far as a potential return is concerned.
ADVERTISEMENT
Article continues below this ad
But there was another twist in the story when Brown posted the above tweet on his social media handle 10 days ago. As per the contents of the tweet, Brown claimed to be ending his 'dream return' to football due to the present situation surrounding the NFL.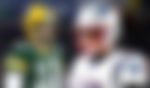 Lamar Jackson opens up about training with veteran WR Antonio Brown
The Florida-born quarterback, Lamar Jackson, spoke about AB in a recent interview with ESPN. Here's what the reigning NFL MVP had to say about the entire situation surrounding the highly talented wide receiver.
"It was nice throwing to Antonio Brown [this offseason]. I was hoping we would get him. I'm still hoping — a little bit. Around us, he's a great guy.
"He's cool, down-to-earth guy. He's passionate about the sport of football. He was working and you can tell … he's going to go 24/7. Prior to the workout, he lifted.
"We go out there, throwing routes, and after that, he lifted some more. I was like, 'there's no quit in this guy,'" Jackson said while talking to ESPN's Jamison Hensley.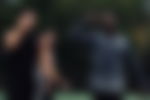 ADVERTISEMENT
Article continues below this ad
"He's the type of guy we need in our locker room and I feel like the locker room here is different from any other locker room. It's a brotherhood going on … none of that outside noise.
"We worry about each other, we worry about what we have going on. We want to win. I can tell in him he wants to win, We want to play ball," Jackson added, via SI.com.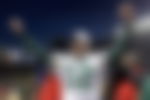 ADVERTISEMENT
Article continues below this ad
SOURCE: Jamison Hensley- Twitter, ESPN, SI.com