'I'm Sure Tom Did a Great Job': Bill Belichick Excited to Watch Tom Brady's 'Man in the Arena'
Published 12/08/2021, 8:12 AM EST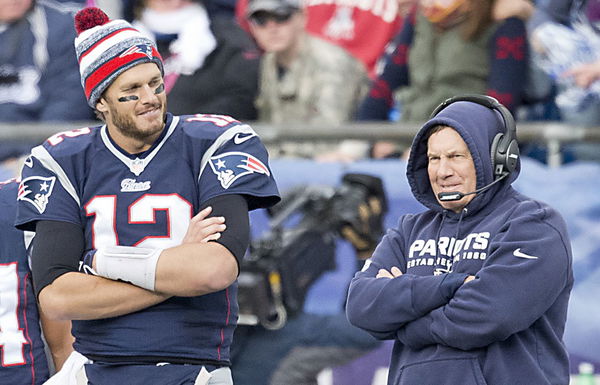 The legendary Tom Brady has had a well-decorated career. To celebrate it, ESPN+ has made a documentary series. This series is called 'Man in the Arena'. It captures Brady's career from his first-ever season with the Patriots back in 2001 with Bill Belichick. With new episodes out every week, a certain somebody cannot wait to watch this documentary series.
Brady's Man in the Arena
ADVERTISEMENT
Article continues below this ad
With an IMDB score of 8.5, Tom Brady's 'Man in the Arena' is an in-depth look at his 10 Super Bowl appearances. It covers all the milestones achieved by the legendary quarterback. This series gives us the details of all the trials in his career. The fans get an intimate look at every victory and defeat Brady has faced. 
Man in the Arena gets an inside input from Tom Brady himself along with Drew Bledsoe. Bledsoe on the development of him taking over a starting role for the team. The first three episodes covered Brady's first three Super Bowl victories. The fourth episode will debut on Tuesday. In this episode, we will get a wide and long look at the 2007 season. This episode will begin with covering the signing of Randy Moss. 
Bill Belichick is interested in Brady's documentary
ADVERTISEMENT
Article continues below this ad
Following the Patriots' victory over the Buffalo Bills on Tuesday, the head coach Bill Belichick was asked if he has watched the documentary.  "I haven't, but I am sure Tom did a great job like he always does," said Brady's former coach. "He was such a centerpiece in obviously all those games. I can't wait to see it."
The head coach was interested in the show and will more certainly be watching the next few episodes. Belichick then started giving Brady and Lawrence Taylor some praise. 
"I definitely will, and as I have said many times, nobody deserves more credit for our success here than Tom does," said Bill. "He's a great player, great person, great leader. Just a tremendous opportunity for me to coach. Probably the greatest player in NFL history and on defense with Taylor, the greatest offensive player with Tom, and greatest defensive player with Taylor. It's been a tremendous opportunity for me as a coach. I certainly learned a lot from Tom. He helped me develop as a coach, as did Taylor. I am very thankful for my opportunity to have over 30 years coaching those two guys."
ADVERTISEMENT
Article continues below this ad
The Patriots coach does not let go of an opportunity to talk about the legendary quarterback. He has appreciation and respect for him.