"I'm Tearing Down That Wall": Meet the NFL's First Transgender Cheerleader and Her Message to America's Most Popular Male Dominated Sport
Published 11/20/2022, 2:30 PM EST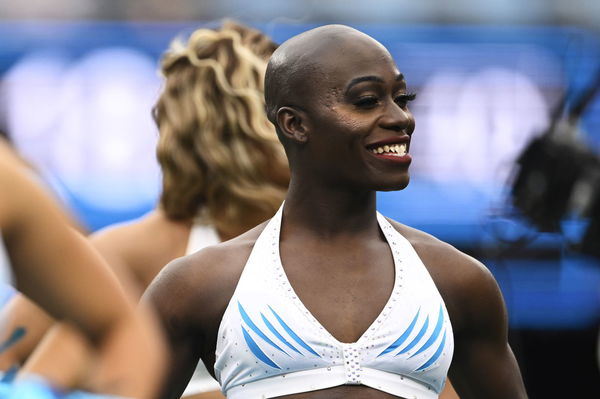 Any person can be a football fan. Their race, ethnicity, or gender- doesn't matter. The Carolina Panthers cheerleading squad, the TopCats hired Justine Lindsey, the first openly transgender cheerleader in the NFL, and they affirmed this notion.
ADVERTISEMENT
Article continues below this ad
Lindsey opened up about working with the Panthers and her wish to be a role model, especially for her community. She said if she can do it, so can everyone.
ADVERTISEMENT
Article continues below this ad
Meet the first transgender NFL cheerleader
The Carolina Panthers hired Justine Lindsay for the TopCats in March 2022. The 30-year-old is the first transgender person to become a cheerleader in the NFL. Born and brought up in Charlotte, North Carolina, Lindsey said she got immense support from her city to pursue her dreams. But that doesn't mean that it all came easily. She received a lot of hate on social media.
 

View this post on Instagram

 
Lindsay dealt with self-doubt about her talent as a dancer. But the negative comments from people who had never met her in person made her think if the world was even moving forward at all. But she overcame everything and has made a place for herself in the NFL history books. And she wants to be the inspiration for transgender kids dreaming of reaching her level.
"This is just the beginning," she said. "I appreciate everyone who has been supporting me from March to now. I love them and hope I can still inspire young transpersons to let them know they can do the same thing I'm doing, if not more. I just hope I can be an inspiration to someone out there," she said in a recent interview.
Indeed, she is an inspiration and a trailblazer for anyone wanting to pursue their dreams.
Tearing down a wall
Lindsay considers herself a face of the possible. And she hasn't forgotten her first-ever NFL experience. For her, the date of September 11 is very special. That was the day at the start of this season when she first performed as a cheerleader in the NFL in the Panthers' first-week game against the Cleveland Browns. For Lindsay, it was the best moment she could imagine.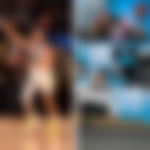 ADVERTISEMENT
Article continues below this ad
Working as a cheerleader for the Panthers in the NFL is more than just that for Lindsay. It is more about creating a path for more people like her.
"Being out on the field on Sundays representing this organization is more than me just being a cheerleader. It's being a face of the possible," Lindsay said in the interview.
"I have had so many parents of young kids in the trans community say thank you for what I'm doing and that their son or daughter is watching me. They are so pleased to see that I'm tearing down that wall," she added.
ADVERTISEMENT
Article continues below this ad
The wall is already down. It's just a matter of time before more transgender people walk the path created by Lindsay and the NFL.
Watch This Story: Super Bowl Champion Patrick Mahomes Reveals He's Terrified Of This Despite Facing Toughest Defenses In The League