NFL Insider Claims Mac Jones is Good Enough to Go at Number 3 to the 49ers
Published 04/02/2021, 11:53 AM EDT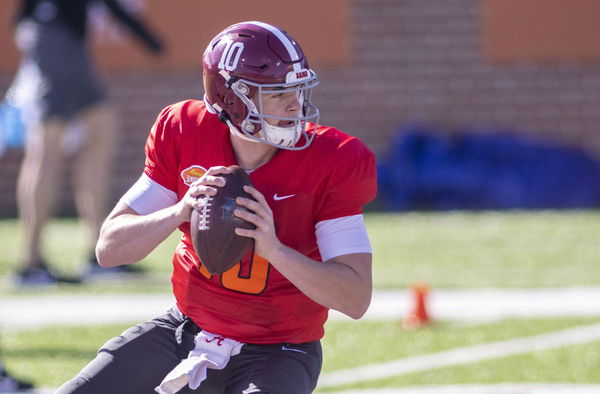 ---
---
The 2021 NFL Draft is fast approaching. Teams across the league are scrambling to list out their respective rookie requirements ahead of this month's event. There are a number of teams in search of a quarterback. One name to make headlines in the past week is Alabama Crimson Tide Football Team quarterback, Mac Jones.
ADVERTISEMENT
Article continues below this ad
The 22-year old youngster had a record-setting season playing under the tutelage of the legendary Nick Saban. Jones threw for 4,500 yards with 41 passing touchdowns against just 4 interceptions in 2020. He finished as Heisman Trophy finalist behind eventual winner and teammate, De'Vonta Smith.
After a strong performance at Alabama's Pro Day, Jones is reportedly on the list of Kyle Shanahan's San Francisco 49ers. Here's what NFL insider Adam Schefter has to say about the promising starlet.
ADVERTISEMENT
Article continues below this ad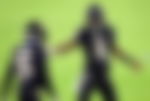 Mac Jones attracting interest from multiple NFL teams this summer
On a recent podcast appearance, NFL Network correspondent Adam Schefter was asked to comment about the situation surrounding the 49ers and the number 3 overall pick they own.
ADVERTISEMENT
Article continues below this ad
He said, "I think they really like Mac Jones. I think they really like Trey Lance. I think they're intrigued by Justin Fields. If the pick were made today, I wouldn't be shocked if the pick were Mac Jones. And Mac Jones is a quarterback in talking to another NFC general manager this week said to me, 'The media does not have as high of grades on Mac Jones as teams do….Mac Jones has elite arm accuracy. He is an elite processor of seeing how the play is going to unfold. He is an elite leader.'"
"That is how a GM from a non-NFC West team, not San Francisco, described Jones to me. He said to me that his athleticism is as good as Matthew Stafford…Teams believe that Mac Jones is good enough to go No. 3," Schefter said on his podcast via NBC Sports.
ADVERTISEMENT
Article continues below this ad
The Jacksonville-born lad is tipped to be a Top-10 pick at the upcoming 2021 NFL Draft. But only time will tell which team he signs with this summer. Either way, the sky is the limit for Jones and we'd like to see him achieve his maximum potential in the coming years!