INSPIRATIONAL! This 15-Year-Old Blind Quarterback Hopes To Play in the NFL Soon
Published 10/24/2021, 7:58 AM EDT
---
---
Making it into the NFL is hard. Thousands of people play till the collegiate level and then quit as it is a very cutthroat industry. Now imagine a blind player dreaming of being in the NFL one day. Crazy right? I agree, but this 15-year-old Modesto Raiders' starting quarterback is aiming to break stereotypes and re-write history.
ADVERTISEMENT
Article continues below this ad
Jasen Barcy has been blind ever since he was a toddler. He was diagnosed with retinoblastoma, a malignancy that produces tumors in the retinas when he was one-year-old. Despite this major disadvantage, Jasen today is the starting quarterback for Modesto Raiders. In a recent interview with CNN, the inspirational rookie shared the challenges he faces and his dream of playing in the NFL.
ADVERTISEMENT
Article continues below this ad
Jasen Barcy has an elite mentality
For the challenges that Barcy has to deal with, having an elite mentality is a must. Luckily, Jasen has a winner's attitude and, above all, a maturity way above his age. Speaking to CNN, the 15-year-old quarterback revealed he has never used his blindness as an excuse. According to him, the only difference between him and other quarterbacks is the number behind their jerseys. Nothing else!
"I never used even once that I can't see as an excuse. Never have, never will," Jasen told CNN. "I told my team that the only difference between me and the other quarterback is that he has a different number, and that's it."There are no limits, and if there's something in the way, I'll find out how to get around it or over it. I'll find a way to achieve my goal in the best way possible."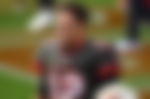 "Always grateful" – Jasen Barcy Sr on his blind quarterback son
ADVERTISEMENT
Article continues below this ad
Parenting a child with special needs is difficult. It becomes even harder when your child is involved in something physically challenging like NFL. When quipped about his son's dreams and choices, Barcy's father, Jasen Barcy Sr, expressed nothing but gratitude. He's grateful to have his son with him and enjoys spending time with him.
"All I know is that we are lucky the cancer didn't spread to his head or into anything life-threatening," he said. "I was always grateful I still had my son, I can still talk to him, laugh, and joke with him because he has a great sense of humor. I can still watch sports with him by commentating to him what was happening throughout the game."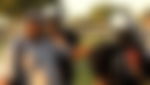 ADVERTISEMENT
Article continues below this ad
Take a bow Barcy family. You guys truly are an inspiration to the next generation.