"Is Brady Worth $375 Million?": Sportscasting Legend Goes Ballistic on Tom Brady/FOX Pact, Says the QB "Doesn't Have a Ton of Personality…"
Published 05/31/2022, 2:41 PM EDT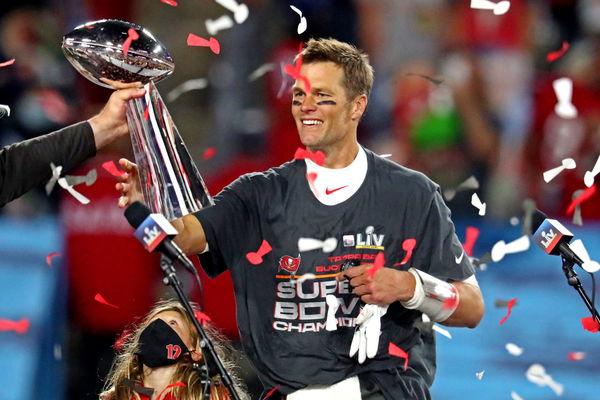 Recently Buccaneers QB Tom Brady signed a $375 million deal with Fox Sports. Tom will be working as an Analyst after he decides to retire from playing in NFL. Even after one week, the news does not seem to quiet down. The controversial discussions are coming up every day with every expert trying to figure out their own theories. 
Looking into this matter, the legendary radio sports personality Chris Russo gave out his verdict on his radio show. Russo also known as 'Mad Dog' doesn't seem happy about the deal.
ADVERTISEMENT
Article continues below this ad
On his radio show, he said, "He doesn't have a ton of personality that we see. Listen, I know that FOX lost [Troy] Aikman. They lost [Joe] Buck. Brady is the next big thing. I get what they are trying to do. Is Brady worth $375 million? Really?"
"What person is going to put the TV set on to hear Brady do a ballgame? … No one is watching a football game because of the broadcaster. Even Brady. But I just think that Brady, I just don't think Brady is going to say anything."
Chris Russo has always appreciated the skills and performance of the legendary Buccaneers QB Tom Brady. There is no doubt he is a great player, but when it comes to his career as a broadcaster and analyst, well, there seems to be a problem.
Chris Russo thinks Tom Brady is boring off the field
ADVERTISEMENT
Article continues below this ad
Chris Russo is quite confident that as an NFL player, Brady remains at the top, but as an analyst, he wonders if he will be able to do the job. It makes him question the $375 million deal offered to him. Tom Brady had a very long career on the football field. We will have to wait and watch to see if he will be successful as an analyst. 
Russo further said, "Pay him $375 million? He's boring off the field now! Who the hell wants to hear Brady's 30-second press conference after a Tampa loss? Is Brady going to maul a quarterback who deserves to be mauled? Or maul a team? He's never thrown anybody under the bus! That was a horrific decision by FOX! Horrific."
ADVERTISEMENT
Article continues below this ad
Tom Brady is an international celebrity. People having no knowledge about the game still have heard about Brady. It is Brady's larger-than-life personality that makes him so valuable and will help Fox upscale their revenue. In the game of advertising, there is always a high price for those who can sell. The same goes with the star NFL player Tom Brady.
Watch this Story- From NFL Star Aaron Rodgers to a NASCAR Driver: List of Danica Patricks Ex-Boyfriends
Edited By: Deepika Bhaduri