Is Cam Newton the 'Victim' in Bill Belichick's Faltering New England Patriots?
Published 10/30/2020, 9:13 AM EDT
The 2020 NFL season was always going to be one of Bill Belichick's toughest seasons as coach of the New England Patriots. The departure of Tom Brady and the subsequent arrival of Cam Newton in Boston signaled the start of a new era for the six-time Super Bowl champions.
The 2015 NFL MVP award winner started his Patriots career with a promising win over the Miami Dolphins. However, the former Carolina Panthers man has led the Patriots to just one more win from their last five outings in the league. Bill Belichick's boys are on a 2-4 record heading into Week Eight.
They need wins, and they need it now. However, is it accurate to blame Newton for the epic demise of the Patriots this season?
ADVERTISEMENT
Article continues below this ad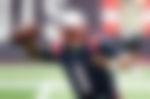 Cam Newton is winless from the last two games with the New England Patriots
On the latest segment of Speak For Yourself, hosts Marcellus Wiley and Emmanuel Acho were engaged in an intense debate about Patriots quarterback Cam Newton. Wiley argued that the number of 'opt-outs' for the Patriots in the offseason has left Cam with a weaker supporting cast.
ADVERTISEMENT
Article continues below this ad
He said, "Cam Newton becomes a victim of being around a crowd that doesn't qualify to be around him. But he needed the opportunity. I understand that, Acho. So I'm not mad at Cam Newton for taking this opportunity because beggars can't be choosers. Cam Newton is the only reason the Patriots are showing any signs of life this season."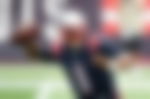 "Cam Newton is going to roll out there this week with no Julian Edelman, Damiere Byrd…Jakobi Myers, isn't that a law firm, who is Cam going to throw to?" Wiley said on the show.
ADVERTISEMENT
Article continues below this ad
New England Patriots are winless in their last two encounters in the league. They will take on AFC East table toppers and rivals, Buffalo Bills, this weekend. Bill Belichick and Co. are desperate for a win. Can they battle against all odds and pull off an upset on Sunday? If the 'real' Cam Newton shows up, they might just be able to do that.