"It is business" – Joey Bosa on Melvin Ingram's Decision To Hold Out For New Contract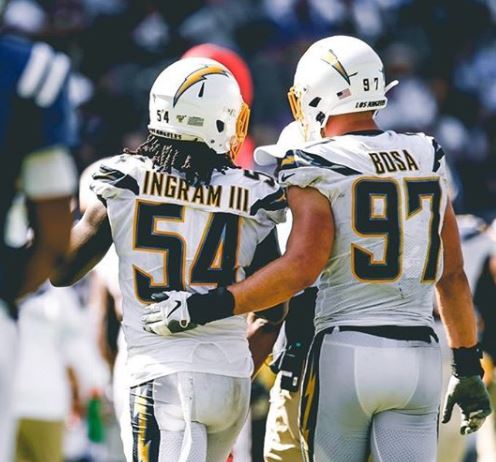 Joey Bosa has been with the Los Angeles Chargers since 2016. The explosive defensive end was recently made the highest-paid defensive player in the league's history. Bosa signed a five-year contract extension worth around $135 million. The Chargers will be delighted to hold on to their prized asset heading into the 2020 season. However, the Los Angeles-based franchise is looking to tie down another star player to an extension in the form of Melvin Ingram.
Ingram is entering the final year of the four-year extension he signed with the Chargers in 2017. He is currently holding out from training in order to get a big final paycheck of his own. Bosa spoke out in favor of his teammate amidst the ongoing preseason training camp.
ALSO READ – "He's carried this franchise on his back" – Analyst On Aaron Rodgers Ahead of 2020 Season
Joey Bosa offers his full support to teammate Melvin Ingram
As you can see, Melvin Ingram has been an active participant in practice despite sitting out. #Chargers pic.twitter.com/KPCVOr3JxD

— Daniel Popper (@danielrpopper) August 18, 2020
In a recent interaction with LA Times, Bosa said "We [Melvin Ingram and himself] talked a little bit, and all I have to say is I'm going to support him. He's going to make the best decision for him and his family. I have faith in him that he's going to make the right decisions.
"At the end of the day, it is a business, and he has to take care of himself. I think he would love to play with us. He wants to be out there. But he's gotta handle business," he added in an interview with Los Angeles Times.
31-year old Ingram is entitled a base salary of $14 million this season, including bonuses. However, since none of that amount is guaranteed, Ingram will be keen to secure an extension before the season starts in 25 days. As seen in the video above, Ingram has been part of the training squad but hasn't been padding up for full practice. Will the Chargers loosen up their purse strings and offer their three-time Pro Bowler a lucrative contract in the coming weeks?
ALSO READ – "He's primed to take that next step" – Mike McCarthy Raves On About Michael Gallup