'It is What it Is'- Chiefs' Tyreek Hill Declined Contract Restructure
Published 03/21/2021, 1:53 PM EDT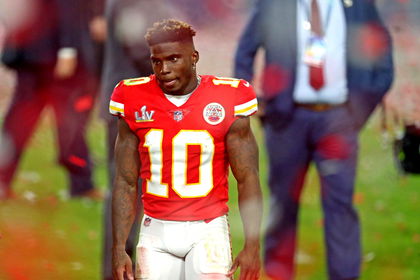 ---
---
Tyreek Hill is one of the most valuable assets to the Kansas City Chiefs. The star wide receiver was a crucial part of the Chiefs' 2019 Super Bowl run. And last season, Hill was one of the best offensive players in the NFL.
ADVERTISEMENT
Article continues below this ad
He helped the Kansas City Chiefs sustain their incredible 14-1 record and reach their second consecutive Super Bowl. But could his time in Kansas have come to an end soon?
Tyreek Hill spoke to Fox News recently about his contract. He revealed that the Kansas City Chiefs asked him to restructure his contract.
ADVERTISEMENT
Article continues below this ad
However, Hill declined to do so, noting that it wasn't the right move for him and his family. Hill didn't seem particularly upset about the request, declaring that he was just there to play football.
"Believe this or not, I'm not going to get too much into the details on it, the Chiefs did ask me to restructure. Me and my family, we just thought that (wasn't) the best situation for me. So, it is what it is. Like I said, I'm just here to play football."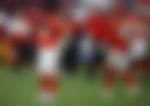 Tyreek Hill not too concerned about his contract
Hill added that he is going to let his agent hammer out the details with the Chiefs. Furthermore, he revealed that he doesn't want to get involved in the contract negotiations because it may sully his experience of playing football.
He is focused on playing for the Chiefs and doesn't really care about the contract as of now. Hill doesn't want to deal with any of the hassles.
"I just let my family and my agent deal with all that because I feel like if I get into that, then all the fun will be taken out of it for me.
"So I just want to play ball. I just don't get into all that. Once I sign, I'm signed. I don't want to get into that no more because it's a hassle."
ADVERTISEMENT
Article continues below this ad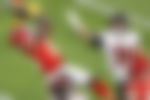 Can Tyreek Hill and the Kansas City Chiefs come to an agreement about his contract? The young wide receiver is easily one of the best in the league right now, and the Chiefs would love to retain him.
However, if his contract dispute remains unresolved, the Chiefs may be forced to let him go, which would be a big blow.
ADVERTISEMENT
Article continues below this ad