"It was a triple slap" – NFL Insider Slams Packers For Their Treatment of Aaron Rodgers
Published 08/20/2020, 9:06 AM EDT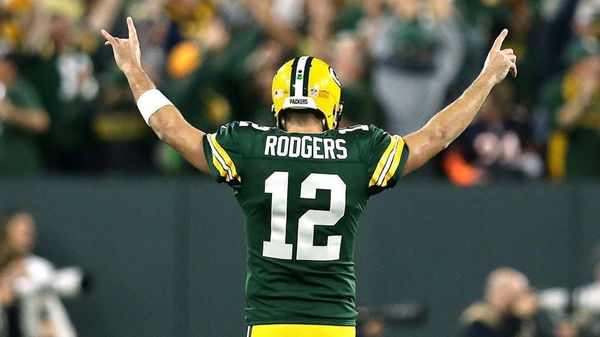 ---
---
Two-time NFL MVP Aaron Rodgers has dealt with more controversy than he would have liked over the last couple of months. Despite proving himself year after year, there are always some people who question the ability of Aaron Rodgers before the start of the season. Rodgers has now thrown for more than 4,000+ yards in three of his last four seasons in the NFL.
ADVERTISEMENT
Article continues below this ad
The only year he didn't was in 2017 when he was injured and played just seven games that season. Granted, last year A-Rod threw for about 400 yards lesser than he did in 2018 but he still crossed the 4,000+ yards mark. Over the last two years, Rodgers had just six interceptions to his name. For comparison, reigning Super Bowl MVP Patrick Mahomes had 17 interceptions in that period while NFL MVP Lamar Jackson had nine. So clearly, Rodgers must be doing something right.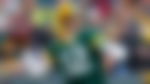 ADVERTISEMENT
Article continues below this ad
Aaron Rodgers deserves more respect in Wisconsin, claims Adam Schefter
The recent installment of ESPN's Get Up featured Jeff Saturday, Adam Schefter, Marcus Spears and host Mike Greenberg. The topic of discussion was once against California-born quarterback Aaron Rodgers. NFL insider Adam Schefter went on a one-minute rant citing how the Packers did Rodgers wrong by drafting Love.
"It wasn't just a double slap, Jeff, it was a triple slap because they not only took the quarterback…they traded up to get him. They gave up an extra pick that they could have gotten another wide receiver.
ADVERTISEMENT
Article continues below this ad
"If you're trading up to go get a guy that tells you that the organization loves the player. They're waiting for the player to step in…..they're clearing space to move on from Aaron Rodgers at some point in time."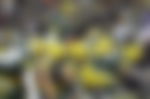 "So they gave up the first-round pick and I think they gave up an additional mid-round pick. So they gave up a lot of picks where they could have gotten one of those players to step in and help Aaron Rodgers rather than compete with him for a starting spot," Schefter said on ESPN's Get Up.
ADVERTISEMENT
Article continues below this ad
Rodgers will undoubtedly be in the spotlight when the Packers take the field this season. They begin their 2020 campaign with an away game against Minnesota Vikings on September 13. Despite Love's arrival, Matt LeFleur hinted that Rodgers is the number one choice to start this year. Let's see if that stance changes in the build-up to the upcoming season.