"It's Funny How Life Comes Full Circle": Russell Wilson Talks About Playing Against Peyton Manning and Being Coached by Him in College Commencement Speech
Published 06/16/2022, 6:18 AM EDT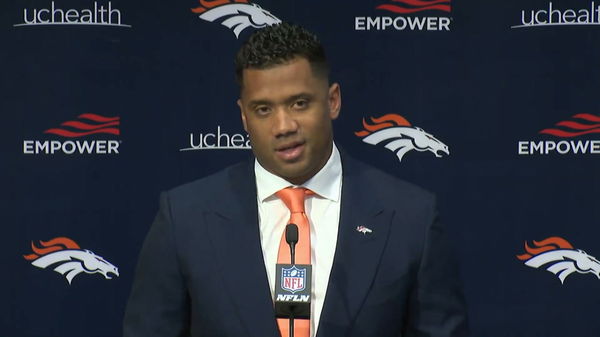 Russell Wilson was a familiar face on the Seattle Seahawks for many years. Recently, the QB was in the news for his move to the Broncos after years with the Seahawks. He also got felicitated with a humanitarian award for contributing to the Seattle community during his days as a Seahawk and even after.
However, the Super Bowl champion's impact has not been restricted to this. His influence is more wide-reaching and can be seen from the honorary doctorate he received on commencement day from his father's alma mater. During his speech, he mentioned several things, and among them was the legendary Broncos QB, Peyton Manning.
ADVERTISEMENT
Article continues below this ad
What does Peyton Manning mean to Russell Wilson?
Russell Wilson spoke of his long association with Dartmouth College through his father and uncles. He spoke of his father's important role in his life and how important an individual's legacy is. He spoke at length about belief in oneself. While recollecting anecdotes from his life and career, Wilson mentioned playing against Peyton Manning and working with him.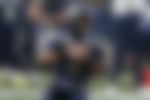 The former Seahawk spoke about having a conversation with his father as a high-schooler about playing football and facing Manning. 11 years after that conversation, he found himself facing the legendary QB for the first time. He said, "11 years after he [his dad] asked me that question in a restaurant in Louisiana, eating that spicy gumbo, I played my first game against Peyton Manning."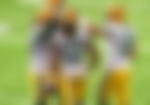 Wilson also said that currently at the Broncos, Manning is a mentor to him. He mentioned, "And it's funny how life comes full circle. Because now that I'm in Denver with the Broncos, Peyton's working with me every day and making me better and better every day."
How long do the two QBs go?
ADVERTISEMENT
Article continues below this ad
Payton and Russell go back longer than their first encounter in the NFL. The current Broncos QB said that, as a high-schooler, he attended a camp and was one of the select few who got a chance to play with Peyton Manning. He mentioned how Manning had appreciated his throwing abilities.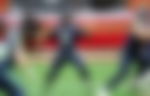 It was this interaction with Manning and a conversation Russell had with his own father that made him the NFL star he is today. His father told him he had the ability to go against the Mannings one day as an NFL star. According to Wilson, his dad gave him the belief that he could get into the NFL and play among the very best of the game.
ADVERTISEMENT
Article continues below this ad
Wilson's speech had many anecdotes about leaving legacies and how deeply his father shaped his life and way of thinking. But this anecdote about his interaction with Manning as a schoolboy and then as an opponent shows how far the belief in oneself can take an individual in life.
Watch This Story: Tom Brady Takes Cheap Shot at His Rival Peyton Manning With a Hilarious Forehead Joke