'It's Not Happening'- NFL Analyst Reveals New York Jets Don't 'Excite' Russell Wilson
Published 03/27/2021, 11:13 AM EDT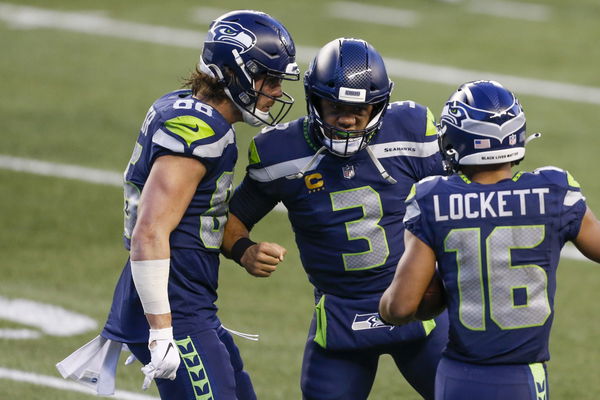 ---
---
The future of Russell Wilson continues to be a contentious topic. After the former Super Bowl winner came out publically to criticize the team, many expected this to be the first move that ends in him leaving.
ADVERTISEMENT
Article continues below this ad
However, Wilson is still with Seattle, as the franchise refuses to give him away as of yet. But one team can rule out Wilson joining their ranks any time soon.
NFL analyst Brandon Marshall addressed the rumors of Russell Wilson joining the New York Jets. He revealed that he spoke to someone who is part of Russell Wilson's inner circle, and the move will not happen.
ADVERTISEMENT
Article continues below this ad
Wilson isn't excited by the idea of playing in New York, and his best chance to win another Super Bowl title is in Seattle, for the time being.
"You know I love the Jets but I talked to someone in Russell Wilson's camp and they said, 'It's not happening.' I'm sorry Jets fans. The best opportunity he has to win is to stay in Seattle." — @BMarshall pic.twitter.com/pZYxZtCvqC

— First Things First (@FTFonFS1) March 26, 2021
"You know I love the Jets, but we got to deal with reality. I talked to someone in Russell's camp, close to him, and I talked about the Jets. They were like, 'It's not happening'. So I'm sorry, Jets fans, it's not happening.
"I don't think that excites him because he wants to go win and he doesn't think that he can win there. That's from people that are close to Russell Wilson. I think the best opportunity Russell has to win now is staying in Seattle."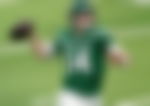 Russell Wilson unmoved by the idea of playing in New York
Few expected the New York Jets to land Wilson. While they do have the assets, after a difficult season last year, Wilson isn't the only player they would have to get to become legitimate contenders.
The Jets have significant structural problems that the franchise needs to address. And adding Wilson would severely hamstring them in terms of the other acquisitions they can make going forward.
For Wilson, he has a list of teams that he would be open to moving to, and the Jets are not one of them. Earlier, it seemed like Wilson had his heart set on playing for the Chicago Bears.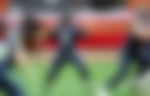 But the Bears got rebuffed consistently by the Seahawks, so they decided to reinforce the quarterback position with Andy Dalton. Nonetheless, Wilson hasn't entirely ruled out a trade before the season.
ADVERTISEMENT
Article continues below this ad
Where will Russell Wilson end up next season? All signs point to Wilson continuing with the franchise. However, if he is adamant about not wanting to play in Seattle anymore, they may have no choice but to trade him or risk a bad season without their star player ready to take the field.
But the Seahawks could yet convince Wilson to stay if they can get him the assets that he wants.
ADVERTISEMENT
Article continues below this ad