It's Shocking But Glad We're in the Playoff Race, Says Indianapolis Colts Head Coach
Published 12/23/2020, 3:05 AM EST
---
---
The Indianapolis Colts are still adjusting to life in the NFL with a new quarterback in Philip Rivers. Since the shock retirement of Andrew Luck before the 2019 season, the side have experimented with a couple of quarterbacks.
ADVERTISEMENT
Article continues below this ad
But in the experienced Philip Rivers, they seem to have finally found the man to steady their ship. Still in the thick of the playoff race, the Indianapolis Colts are currently 10-4 and 2nd in the AFC South.
With a healthy 3-game winning streak, the odds of the Colts making the Playoffs are certainly in their favor. With the race for the Playoffs being as intense as it is, Indianapolis Colts' Head Coach, Frank Reich, seems to be as cool as a cucumber.
ADVERTISEMENT
Article continues below this ad
Indianapolis Colts focusing on getting the little things right
"It's shocking… In a weird way, I'm saying, 'I'm glad it's like this.' Our goals are high," head coach Frank Reich said via the Indianapolis Star when asked about the team's position in the playoff race.
Reich, who is into this third full season as the Head Coach of the Indianapolis Colts, has long been associated with the franchise. From 2008 to 2011, Reich served the Colts in multiple capacities.
First, as an offensive coaching staff assistant, then as quarterback coach, and finally as wide receiver coach before heading off to the Arizona Cardinals.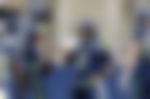 "The way we get to where we want to go to is by worrying about the Pittsburgh Steelers, by worrying about what we're going to do tomorrow when we watch the film, and how we're going to practice on Wednesday, how we're going to learn to play better fundamental football and play as a team, do the little things right," Reich said.
The coach doubled down on the need for this team to take it a step at a time and focus on getting better each day. "If we're good enough, we'll be there… The way to be good enough is to focus on getting better every day," said Reich.
ADVERTISEMENT
Article continues below this ad
Colts' playoff scenario
With 2 games left this season, the Indianapolis Colts face the faltering Pittsburgh Steelers next. And what better time to face the once undefeated Steelers. On a 3 game loss, the Colts will be hoping to make it 4 in a row for the Steelers.
A win against the Steelers, however, will not be enough for them to clinch the wild card spot. The Colts will have to rely on other results (Baltimore Ravens and Miami Dolphins) to guarantee a playoff berth by this weekend.
ADVERTISEMENT
Article continues below this ad
With the playoff race being as tight as it is, do you think the Colts have it in them to make it to the postseason this year?