"It's Tough to Lose a Game if You Run for 200 Yards": Joe Burrow Takes Cheeky Dig at Aaron Rodgers After Bengals Destroy Panthers
Published 11/07/2022, 12:00 PM EST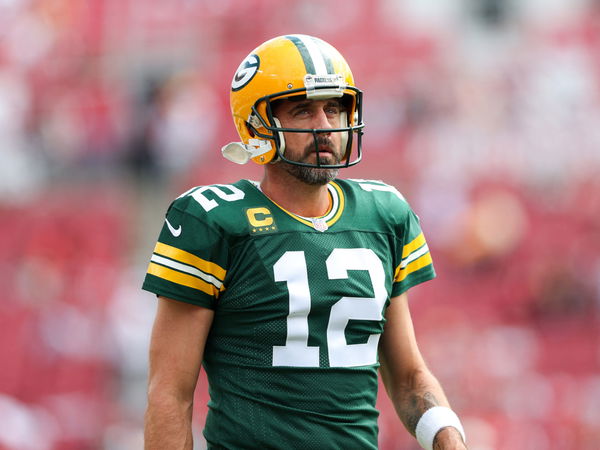 The Cincinnati Bengals scored high to win against the Carolina Panthers. And they scored five rushing touchdowns in the game. That prompted the team's quarterback Joe Burrow to take a cheeky dig at Aaron Rodgers and the Green Bay Packers.
And it was such a cheeky one too.
Joe Burrow takes a dig at Aaron Rodgers
Aaron Rodgers has had a disastrous season so far. The Packers have lost six games in the nine they have played so far. Rodgers himself seems out of form. The veteran QB threw three interceptions in the game against the week nine loss to the Detroit Lions.
ADVERTISEMENT
Article continues below this ad
Green Bay ran the ball for 200 yards against the Buffalo Bills last week. Many had called their running game a success despite it ending up in a losing cause. People urged Rodgers to run the ball more. This prompted a cheeky dig from the Bengals QB Joe Burrow. After their week nine bout of the Panthers, Burrow told reporters that it was difficult to lose a game after running 200 yards.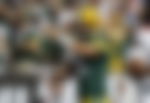 "Yeah, if we, I mean if we run the ball like that, it's tough to lose a game when you run for 200 yards," Burrow said. The Bengals scored five rushing touchdowns against the Panthers, including one from Burrow himself. The new rush master is in town.
Contrasting seasons for the Packers and the Bengals
The Packers led by Aaron Rodgers and the Bengals led by Joe Burrow have had a somewhat contrasting season so far, though their divisional position remains the same. The Bengals have won five of their nine games, whereas the Packers have won just three. And that contrast was never more visible than their week nine outings.
The Packers lost fifth time on the bounce, this time to the Lions. Rodgers completed just 23 of his 43 pass attempts in the game. He threw just one touchdown pass for the team. And the Lions defense rubbed salt on the wounds by intercepting three of his passes. The Packers lost 15-9.
ADVERTISEMENT
Article continues below this ad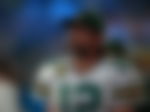 The Bengals on the other hand dominated the Panthers from the word go. They had raced to a 35-point lead at halftime, well and truly killing off the game. Carolina had to wait till the third quarter to register points on the board. Burrow threw 22 completions for 206 yards. The defense could not intercept any of his passes. He threw just one touchdown pass in the game.
But the Bengals never played for passing. They were rushing. Last year's Super Bowl runners-up scored five rushing touchdowns in the game, including one from QB Burrow. The Bengals won 42-21.
ADVERTISEMENT
Article continues below this ad
Where will the Packers and Aaron Rodgers finish this season?
Watch This Story: Fans go wild after Aaron Rodgers sports a Trump-like 'great again' t-shirt
Edited By: Gurjyot Singh Dadial