I've Always Been Doubted: Alabama Star Bryce Young on Winning the Heisman Trophy
Published 12/12/2021, 1:51 PM EST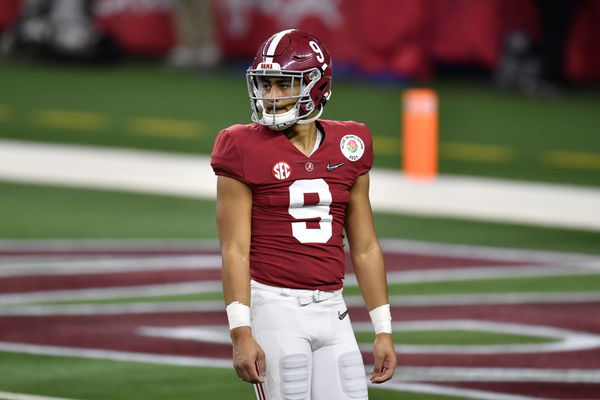 ---
---
Alabama quarterback Bryce Young was named the 2021 Heisman Trophy winner on Saturday night. With that, the Crimson Tide became the fourth team in history to win the Heisman Trophy back-to-back. Last year, the award went to wide receiver DeVonta Smith.
ADVERTISEMENT
Article continues below this ad
The 20-year-old surpassed Michigan defensive end Aidan Hutchinson, Pittsburgh quarterback Kenny Pickett, and Ohio State quarterback C.J. Stroud by a wide margin, receiving 684 first-place votes and 2,311 overall points.
ADVERTISEMENT
Article continues below this ad
Bryce Young the definition of resilience
And so at the time of his acceptance speech, the Alabama sophomore poured his heart out. His greatest achievement reflects upon his years of hard work, dedication, and resilience to the sport. Although it was not that easy for him to overcome the difficulties along the way.
ADVERTISEMENT
Article continues below this ad
"For me, I've always been someone who's been labeled as not the prototype," Young said during his speech. "Being an African American quarterback and being quote-unquote undersized and not being that prototype. I've always been ruled out and kind of doubted. People a lot of times have told me that I wasn't going to be able to make it. And for me, it's always been about not really proving them wrong, but proving to myself what I can accomplish."
Young leading the Alabama Crimson Tide
ADVERTISEMENT
Article continues below this ad
Young has leaped over many hurdles to reach where he has reached now. He was given a monumental task to fill in the shoes of his successful predecessor, Mac Jones as Alabama's quarterback. Jones, who placed third in previous year's Heisman vote, led the country with 4,500 passing yards and a 77.4% completion rate, helping the Crimson Tide to a 13-0 record and the national championship.
After Young took the reins of the offense, he had no trouble blazing his own path to success. He led the Crimson Tide to the Southeastern Conference title and made them No. 1 seed in the college football playoff this season. He passed for 4,322 yards and 43 touchdowns. The Tide will be playing No. 4 Cincinnati in the Cotton Bowl on Dec. 31.