"I've Never Wanted A Tie So Bad": Heartbreaking Justin Herbert Moment Captured Before Las Vegas Raiders Crush LA Chargers' Playoffs Hopes
Published 01/10/2022, 6:32 AM EST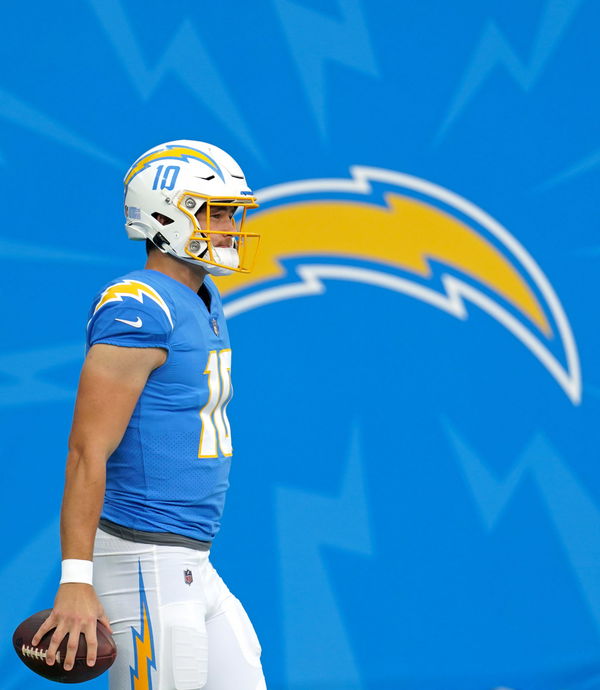 ---
---
Every time that the Los Angeles Chargers needed him, Justin Herbert delivered. The quarterback played his heart out on the field and gave his all in every play. Week 18 was crucial for the Chargers. LA needed to win this game to keep their playoff hopes alive. But America's most wanted, the Las Vegas Raiders, had other plans.
ADVERTISEMENT
Article continues below this ad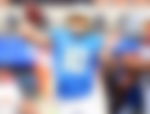 The Raiders defeated the Chargers and knocked them out of the playoff race. During the first timeout, the cameras captured a heartbreaking moment. We saw the Chargers quarterback Justin Herbert with a broken spirit and fear of losing. 
ADVERTISEMENT
Article continues below this ad
Justin Herbert wanted a tie
Before the game began, both the teams had a record of 9-7. Justin Herbert is in his second season with the Chargers. The 23-year-old QB had a pretty good first year. He won the offensive rookie of the year last season. In the game last night, Herbert threw a season-high of 64 passes for 383 yards. He also scored three touchdowns.
In any other matchup, these are some game-winning stats. But the Raiders were one step ahead in Week 18. They defeated the Chargers with a score of 35-32. The Chargers are done for the season as this loss eliminated them from the playoffs' contention. 
An amazing touchdown by LA with literally no seconds left on the clock tied the game. The score was 29-29. It put the game into overtime. This gave the Chargers some hope. A couple of field goals later, the 32-32 game became sudden death. During the first timeout, we saw Justin Herbert with his helmet over his head.
What he said next was heartbreaking for everybody. The QB said, "I've never wanted a tie so bad." We can literally see the sadness on his face. But a few minutes later, the Raiders took it home with another field goal. 
Herbert talks about not making it to the playoffs after the game
ADVERTISEMENT
Article continues below this ad
In the post-match interviews, the reporters asked Justin many questions. One of those questions was how tough is it not to make it to the playoffs this year?
To which Herbert replied, "It's tough. The whole goal is to get to the playoffs and eventually win a Super Bowl," he adds, "It didn't go our way tonight, and that's the unfortunate part." This is the seventh time the Chargers have missed the postseason in eight years.
ADVERTISEMENT
Article continues below this ad
It is really heartbreaking to see them go out despite the efforts of Justin Herbert. Maybe next season will be better for Los Angeles. 
Watch Stories: Dak Prescott breaks Tony Romos single-season TD pass record in Cowboys win over Eagles