"I've Seen a Lot of Iterations…" Aaron Rodgers Showers Immense Praise on NBA Legend Charles Barkley for Improving 'Hitched' Golf Swing
Published 05/23/2022, 9:00 AM EDT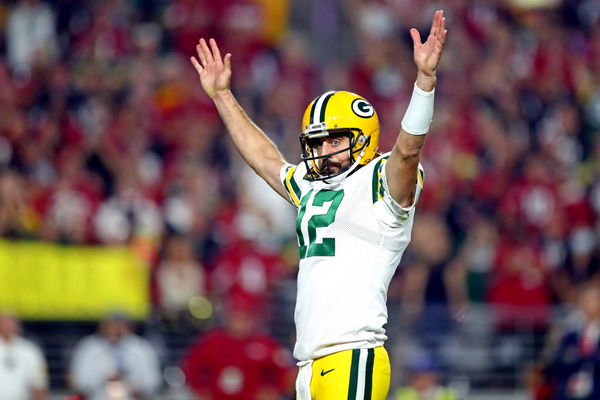 Things are heating up for the charity golf game in June. The extravagant golf event of the year is named "The Match". It will feature Tom Brady teaming up with Aaron Rodgers to take on the youngblood team of Patrick Mahomes and Josh Allen. The veteran team of Brady and Rodgers crashed the party of the 'Inside the NBA' crew.
During the show, both the quarterbacks talked about a lot of things. It was a fun treat for the fans to see their favorite athletes laugh and have a good time. One of the most ingesting things from the broadcast was Rodgers talking about an NBA legend's golf skills.
ADVERTISEMENT
Article continues below this ad
Aaron Rodgers praises Charles Barkley
Shaq, Charles Barkley, Kenny Smith, and Ernie Johnson were busy breaking down and making predictions about the match-up between the Mavericks and Warriors. While the crew was talking game, they were interrupted by veteran NFL quarterbacks Aaron Rodgers and Tom Brady. 
The entire crew with Brady and Rodgers gave the audience some hilarious moments. Charles Barkley was the star of the show. He has also admitted to having a mini man-crush on Brady. It made a lot of headlines earlier this month. The GOAT's name has come up a lot on the TNT show. But it was Aaron Rodgers who made his night more memorable.
ADVERTISEMENT
Article continues below this ad
Aaron Rodgers and Tom Brady on with the TNT NBA crew right now promoting The Match.

Charles Barkley: "Get a haircut, Aaron."

— Matt Schneidman (@mattschneidman) May 23, 2022
The Green Bay Packers quarterback praised the NBA legend on his golfing skills. Barkley recently claimed the black jacket. To congratulate him, Rodgers said, "I've seen him swing." He adds, "Ahead, I've seen this morning on the range trials, and I've been impressed because I've been at Tahoe for 17 years and seeing a lot of iterations. Everything from 2-handed to one-handed to right hand to left, hand to the hitch, and no-hit. I'm happy for you, big fella. I'm proud of you."
ADVERTISEMENT
Article continues below this ad
The golf match between the four quarterbacks will be exciting to see. Things are already starting to heat up, and fans can't wait for the event. The action is about to start before the regular season kicks off. But it will not be on a football field. Are you excited for the golf game and which team are you supporting for "The Match" in June?
Watch This Story:  Colin Kaepernick's Greatest Achievement Might Be This Award Associated With Muhammad Ali and Handed to Him By Beyonce