Trevor Lawrence Reveals the Flipside of Being a College Football Superstar
Published 05/03/2021, 9:53 AM EDT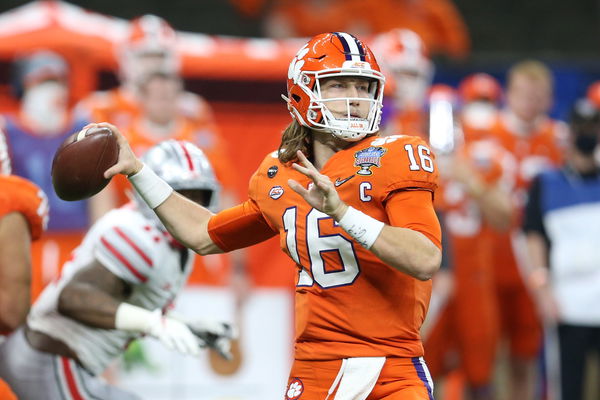 ---
---
Trevor Lawrence made a name for himself as a high school superstar before 2018. The Knoxville-born athlete was the starting quarterback at Cartersville High School.
ADVERTISEMENT
Article continues below this ad
He led the Purple Hurricanes to 41 straight victories, winning 2 state championships and 4 region titles while also receiving numerous national high school player of the year honors.
Lawrence broke the Georgia state record for passing yards and passing touchdowns in 2017, which was previously held by Houston Texans star Deshaun Watson. He went on to commit to Clemson and the rest, as they say, is history.
ADVERTISEMENT
Article continues below this ad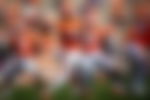 He was selected as the 1st overall pick in the 2021 NFL Draft by the Urban Meyer-led Jacksonville Jaguars. But it has not always been smooth-sailing for him, even during his teenage years as a college football superstar.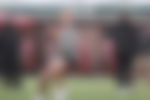 Trevor Lawrence tipped for a bright future with the Jacksonville Jaguars
The Clemson Tigers quarterback recently sat down for an interview with Sports Illustrated after joining the Jaguars. He was asked to talk about how it feels to grow up as a college football superstar in Georgia.
"I think there were definitely some challenges, obviously there are some great things. Kids now especially think just like being famous, all those things are super cool.
"But then once that's your life, it's like, you can't really go back to what life was before, it's a lot more simple.
"Just have to think about things that you never thought you'd have to think about things you do the image, you have just all that can be a little bit of pressure at times, but really just blessed to be in a situation, I think the blessings definitely outweigh the negatives about it," Lawrence said.
ADVERTISEMENT
Article continues below this ad
Trevor Lawrence ended his college football career with 10,000+ passing yards and 90+ passing TDs since making his debut in 2018.
He finished as the ACC POTY in 2020 and was also a Heisman Trophy finalist along with Alabama's Mac Jones. He will be in the limelight and under major pressure to make an impact with the Jaguars in 2021.
How do you think the 21-year-old quarterback will fare in his NFL rookie year? Tell us in the comments section below.
ADVERTISEMENT
Article continues below this ad