Jaguars Owner Shad Khan Thanks Doug Marrone for his Service
Published 01/04/2021, 1:56 PM EST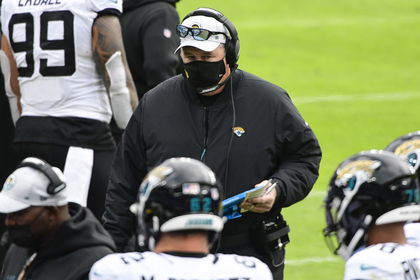 ---
---
The Jacksonville Jaguars had an absolutely torrid season this time around. They finished the season with a 1-14 record, the worst in the league. The repercussions of the season are starting to take shape.
ADVERTISEMENT
Article continues below this ad
In November, the Jaguars let go of General Manager David Caldwell. And after the end of their season, the Jaguars let go of Head Coach Doug Marrone.
After the sacking of Doug Marrone, Jaguars Owner Shad Khan released a statement thanking Doug Marrone for his service to the franchise. But he noted that it is time for the franchise and Marrone to start off on two new journeys.
ADVERTISEMENT
Article continues below this ad
Khan also thanked and apologized to the people of Jacksonville for the team's disappointing season, and vowed to find a new coach and GM soon.
The firing of Marrone comes as no surprise to anyone. Doug Marrone joined the Jacksonville Jaguars' coaching staff as the assistant head coach and offensive line coach in 2015. By 2016, he became interim head coach, when Gus Bradley was let go of the head coaching position by the Jaguars.
Doug Marrone – Time's up in Jacksonville
In 2017, Marrone became the permanent Head Coach for the Jaguars. During his time as chief, he led the Jaguars to the Playoffs for the first time since 2007, after winning the AFC South Division title. However, during the Playoffs, Marrone had an even better showing.
In 2018, the Jaguars defeated the Buffalo Bills in the wildcard round of the AFC Playoffs. But Marrone's work didn't end there. Jacksonville then pulled off a massive playoff upset when they defeated the Pittsburgh Steelers in the divisional round.
Marrone led them to the AFC championship game, one of the few in the history of the team.
ADVERTISEMENT
Article continues below this ad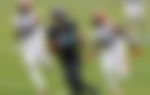 However, they lost to the New England Patriots in the AFC Championship game. And thus began the poor downturn for the Jacksonville Jaguars.
After reaching the AFC championship game, the Jaguars missed the Playoffs multiple times and had more losses than wins. However, the Jaguars franchise retained faith in Doug Marrone.
ADVERTISEMENT
Article continues below this ad
But after going 1-14, the Jaguars called time on Marrone's coaching stint in Jacksonville. Now, the franchise must look not only for a new General Manager but also a new Head Coach as they begin preparing for the 2021 NFL season.