Jalen Hurts Changes Jersey Number To Complete Transformation Into Philadelphia Eagles' QB1
Published 04/03/2021, 11:17 AM EDT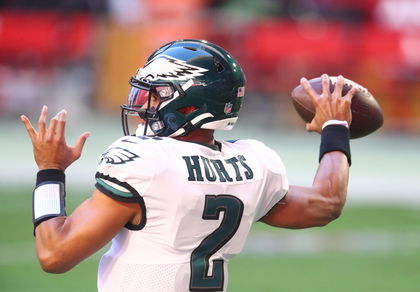 ---
---
Jalen Hurts is no longer the Philadelphia Eagles' QB2. Not according to the quarterback depth chart, and neither in terms of his jersey number. 
ADVERTISEMENT
Article continues below this ad
With former first-round pick, Carson Wentz being traded to the Indianapolis Colts have a new QB1 in every sense with Jalen Hurts. The quarterback who donned the #2 jersey through his rookie season in 2020 will now wear the #1 kit for 2021. 
The Philadelphia Eagles announced that Hurts would be taking over Wentz's former number. For Hurts though, nothing is guaranteed. With the Eagles bringing in veteran Joe Flacco to give him competition, Hurts will have to be on his heels. 
ADVERTISEMENT
Article continues below this ad
Jalen Hurts looks to thrive under pressure 
Entering his second season, the quarterback has a lot to prove. The Philadelphia Eagles are by no stretch a bad team. They won themselves a Super Bowl a couple of years ago. 
The quarterback showed shades of promise in his first few stints as a starter last season. This season though, he'll have to bring his A-game to cement his role as QB1.
ALSO READ –  NFL Draft 2021: Why Did Miami Dolphins Trade Back Up to Number 6?
Hurts has earlier donned the #1 shirt. Starting off with Alabama, Hurts wore the #2 kit much like his time at Philly so far. He eventually though transferred to Oklahoma where he wore the #1 jersey. 
It was here that the quarterback truly came under the spotlight. Compiling close to 4,000 air miles along with 32 touchdowns, Hurts showed the world that he has what it takes to make it in the NFL.
His performances in his final season at college did not go unnoticed as he was a Heisman finalist during his class.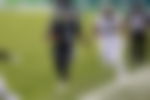 Hurts' impressive performances eventually saw him being drafted by the Eagles franchise in the second round of the NFL Draft in 2020. While Wentz leaving paved the way for Hurts to take on the #1 jersey, one can't be too sure that he'll be their QB1 in every sense.
ADVERTISEMENT
Article continues below this ad
If Hurts slips up, he'll have Super Bowl-winning QB Joe Flacco breathing down his neck. Flacco, who has primarily donned the #5 took the #7 jersey due to unavailability. 
With Hurts now the Eagles new starter, do you feel he can hold down his role beyond the 2021 NFL season?
ADVERTISEMENT
Article continues below this ad
ALSO READ – 'Hallucination'- Former NFL Player Doesn't Believe the Patriots Will Draft Justin Fields in 2021