Jalen Hurts Has Achieved a Piece of History That Tom Brady, Aaron Rodgers, and Patrick Mahomes Could Not Achieve
Published 02/26/2022, 8:11 AM EST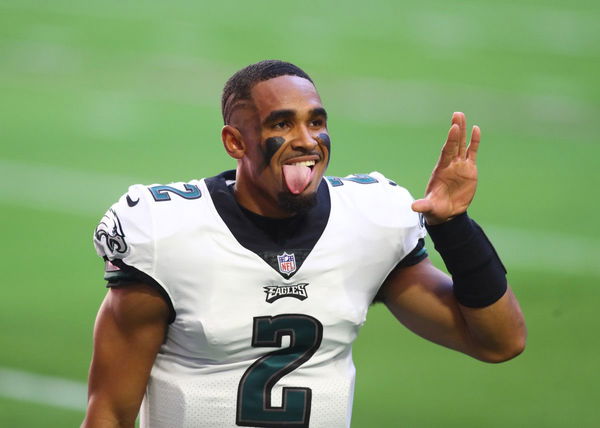 Jalen Hurts has the keys to the Eagles franchise for at least another year. The former Oklahoma QB has only started 19 games as of now. But he is already putting up numbers that surpass legendary QBs such as Tom Brady, Patrick Mahomes, and even Aaron Rodgers.
As reported by Jeff Kerr, Hurts became the only player in NFL history to reach 4,000 passing yards and 1,000 rushing yards in his first 20 games. Interestingly, he still has one more game to go till 20. So, this stat might get even more impressive this year.
ADVERTISEMENT
Article continues below this ad
It might be a surprising stat to digest for some, as the 'dual-threat QB' has been around in the NFL for some time now.
Read more: Troy Aikmans Move to ESPN Means Amazon Target Super Bowl Winning Coach to Become Analyst
Although, an argument can be made that Hurts had an advantage as universal acceptance of a QBs taking off has been fairly recent.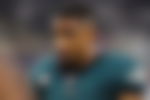 The Philly QB is lethal in tight situations because of his dual abilities, as this stat-line rightly represents. Other legendary QBs are not even in the discussion because at the time Tom Brady or Aaron Rodgers started playing, the community was not as accepting of the running QB.
From Tarkenton, Vick, and Cunningham to Murray, Jackson, and Jalen Hurts
The evolution of the running QB has been in the making for decades. It is by no means a new phenomenon. Hurts is continuing the legacy of QBs such as Fran Tarkenton, Randall Cunningham, and Michael Vick. All of these QBs had splendid rushing abilities along with a strong arm.
ADVERTISEMENT
Article continues below this ad
Yet, none of them was able to achieve the stats that the young QB has done. Some argue it is because he does not look for more than one read before taking off. While others say it is because the offense has exploded and thus the stats of today are incomparable to previous years' stats.
Where to now, Jalen?
Jalen Hurts has impressed some with his stats, but this is only the start. Yes, in a sense he has done something that other legendary QBs such as Aaron Rodgers and Tom Brady were unable to achieve. Yet, it is not without a caveat. These stats will only look good in the future if Hurts can get better throwing the ball while also continuing to wreak havoc with his legs.
ADVERTISEMENT
Article continues below this ad
Do you think Hurts will continue on this historical run? Or, will the new season expose any of the deficiencies he seems to have in throwing the rock? Tell us in the comments.
Watch This Story: Kyler Murray and Arizona Cardinals Resolve Their Conflict; QB Expected to Stay in 2022