Ja'Marr Chase Family: How Jimmy and Toleah Chase Helped LSU Starlet Develop
Published 04/25/2021, 10:10 AM EDT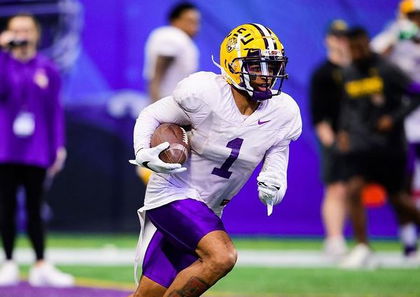 ---
---
It's not easy to make it big in the dynamic world of college football. Over the years, the NCAA has transformed itself into a huge enterprise that attracts the best talent from across America consistently. Critics and fans will agree that you need all the help you can get (and a whole of luck) in order to achieve the dream of playing in the NFL. Don't believe us? Then ask Louisiana State star, Ja'Marr Chase.
ADVERTISEMENT
Article continues below this ad
ADVERTISEMENT
Article continues below this ad
The 21-year-old wide receiver burst onto the scene in 2019 with some dazzling displays. Chase, along with QB Joe Burrow, was crucial for LSU as they won the 2020 CFP National Championship in epic fashion.
He finished the season with 1,780 receiving yards and 20 receiving TDs that year. He was adjudged as the nation's best wideout and bagged the Fred Biletnikoff Award.
Who does he have to thank for his development? The answer is Jimmy Chase and Toleah Chase.
What role did Jimmy and Toleah Chase play in the rise of Ja'Marr Chase?
Ja'Marr Chase has always been a family man. "Being close to my family, that's the biggest thing for me right now," he said in the above interview during his high school days. This was just after he decided to commit to LSU ahead of the 2018 college football season.
Ja'Marr Chase's college record is second to none. He would've been right up there with De'Vonta Smith had he not opted to skip the 2020 NCAA season due to the coronavirus crisis.
It takes great mental strength and emotional support to make a massive decision like that. Thankfully, Chase has a wonderful family and beautiful parents to guide him on this journey.
Meet Jimmy and Toleah Chase, parents to a future NFL star
Jimmy and Toleah Chase, the parents of Ja'Marr, have always been pivotal figures with respect to their son's football career. The latter, in particular, is delighted to see how Chase has grown in recent years.
"That's the most fulfilling part. To have your child or your son set some goals for himself and actually reach some of those goals, doing what he loves to do; it's a beautiful thing, life-changing thing.
"It's a blessing, and I'm so pleased with Ja'Marr. He is setting all of his goals and reaching them. Just to be a finalist. Even if he doesn't win, that's still good. That means he's awesome," she said via WAFB.
ADVERTISEMENT
Article continues below this ad
Chase is expected to go in the first round of the 2021 NFL Draft. In fact, he might be the first non-QB to be drafted later this month ahead of the likes of TE Kyle Pitts, OT Penei Sewell, and WR De'Vonta Smith.
A potential reunion with former LSU teammate and good friend, Joe Burrow, is also on the cards. But what fans are excited about is to see the arrival of such a talented wide receiver.
Chase vs Smith – the next big NFL rivalry? Tell us what you think in the comments below.
ADVERTISEMENT
Article continues below this ad