"Jason Can Run for Office": Passionate Appeal to Incarcerate Spammers Gives Fans a Peak Into Possible Post NFL Career for Jason Kelce
Published 03/11/2023, 7:43 AM EST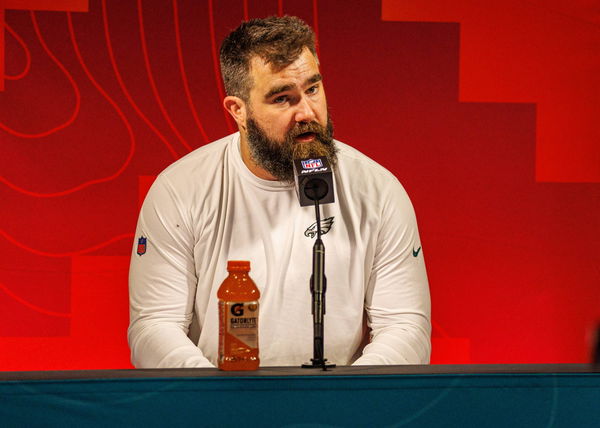 Spam calls and dealing with spammers is something all of us deal with in our day-to-day life. It also seems to be the case for Philadelphia Eagles center Jason Kelce. Jason had recently brought out the topic of how spam calls and spammers are an issue a lot of Americans deal with every day. From unsolicited calls to text messages, the issue of spamming seems to be prevalent all over the world. And Jason Kelce seems to have had enough of such unnecessary nuisance in life.
After speaking up regarding this everyday nuisance for the people, fans ponder over the possibility of a post-NFL career for Jason Kelce once he decides to hang up his cleats.
Fans hint at a possible post-retirement career for Jason Kelce
ADVERTISEMENT
Article continues below this ad
On a new episode of the New Heights show, Jason Kelce spoke up about how spamming and spammers have reached ridiculous heights in the present time. He shared how he feels that spammers need to be incarcerated and thrown into prison. Jason says that there should be a law that, if you call or text anyone unsolicited for sales and marketing, they should put you behind bars. 
 

View this post on Instagram

 
This left fans discussing the possibilities of Jason Kelce pursuing a completely unique career path post his retirement from the NFL
A user by the name julielclarke commented, "Sounds like Jason can run for office on this issue!"
Another user said, "If we weren't all rooting for another Kelce Bowl, this could be the jump off for the Kelce Kampaign '24.."
This user said, "Jason for President!!! Letsss goooo!!!"
Another user by the name ed_pulsaki commented, "I would allow Kelce to retire only if he ran for Mayor"
This user said, "With you! 100%"
ADVERTISEMENT
Article continues below this ad
It seems like after the recent birth of his daughter, baby Bennett, 35-year-old Jason Kelce is finally stepping into the shoes of adult issues. After a memorable Super Bowl showdown against his brother Travis Kelce and the Kansas City Chiefs, Jason might be looking forward to a career in politics to restructure American needs and problems.
Jason for future President?
As time passes, we might likely see the Eagles center take up center stage in the American office as well. Many athletes move forward with other career options post their retirement from the NFL. So the possibility of Jason Kelce running for office is not a farfetched idea by the fans.
ADVERTISEMENT
Article continues below this ad
But until we reach that time period in the NFL, fans will be hoping for another amazing Kelce Super Bowl showdown in the coming times. This time, maybe the outcome will be different. 
Watch this story: NFL GOAT Tom Brady shows support for Patrick Mahomes amidst Super Bowl trophy giveaway
Edited By: Abigail Kevichusa