Jerry Jones Creates Massive Buzz on Upcoming Cowboys Deal With Veteran Free Agent
Published 03/04/2023, 3:15 PM EST

Follow Us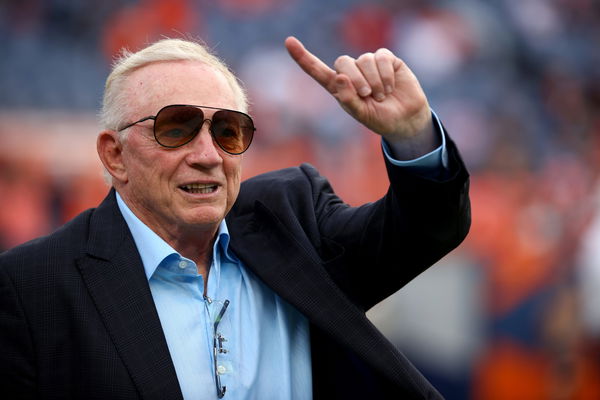 The current owner and General Manager of the Dallas Cowboys, Jerry Jones has some big plans for the free agency phase. It has been twenty-seven long years since the Cowboys made it to a Super Bowl game. And even though most teams have their hopes set up for the offseason, Jone seems to be just waiting for the perfect name to pop up. In an interview, recently, the Dallas Owner hinted at the America's team doing "something special".
Jones is definitely cooking something up, something that would turn out to be the perfect fit with his team. He is however not keen on reshuffling the entire roster but intends to enhance it by adding the missing piece.
Jerry Jones and his special move?
ADVERTISEMENT
Article continues below this ad
During an interaction with Jon Machota of The Athletic, Jerry Jones asked to not rule the Cowboys out as they might pull off 'something special'. Jones said, "Don't dismiss us doing something special with the right veteran free agent. Any place. I would in a New York minute if I think it fits a lot of what I'm sitting here talking about if it fits more than a short-term situation for us."
Jones portrayed a sense of smugness throughout the interaction which makes you wonder if he indeed does have something in the works. Maybe Jones is on his way to signing some mammoth of a name, or maybe the man is just confident of his current squad's capabilities.
He also has high hopes for the younger players, expecting them to step up and prove their mettle, "You've got to have young, talented players. That doesn't necessarily mean they're the first- or second-round picks, but they're players that can execute, that can play the role, but you've got to plan on playing them. There is no getting around it. "
ADVERTISEMENT
Article continues below this ad
The GM intends to retain most of his team going into the next season. He mentioned that the team will most definitely keep Tony Pollard with them, whether that is through a multiyear deal or the franchise tag, which is yet to be seen. He went on to express similar notions for their veteran running back, Ezekiel Elliott, citing him as an important asset to the Cowboys.
The man for the job
Every owner in the NFL has a guy they can trust blindly, someone that relentlessly leads the team by example. For Jerry Jones, Dak Prescott is that guy. Jones showcased his full confidence in Prescott, even comparing him to NFL royalty.
ADVERTISEMENT
Article continues below this ad
"I think just as Brady became, in my mind, better and better and more impactful on how they won as he got into his career, I think Dak really has those qualities, I think he can get better," he added. Jones left no stone unturned in appreciating Prescott, even proclaiming him every 'coach's dream'.
Watch This Story: "I get this 100%": Jonathan Owens' future wife Simone Biles can relate to Dallas Cowboys' linebacker going through anxiety