"Jerry Jones Needs to Pull the Plug": Fans, Experts and Analysts Cue Warning Signs as Cowboys Crisis Hits a Highway
Published 01/24/2023, 3:58 PM EST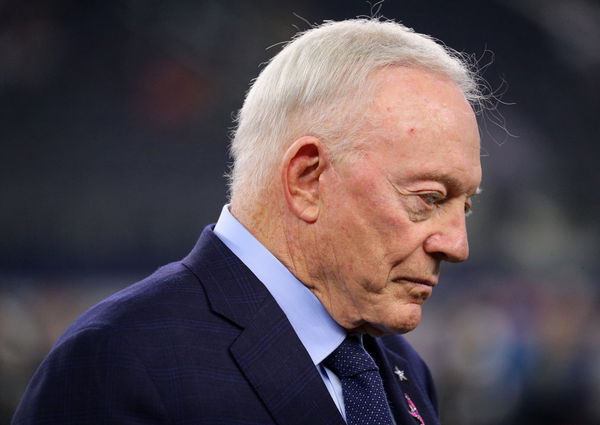 Jerry Jones has to wait another year to have a chance to end Dallas' 27-year Super Bowl drought. The Dallas Cowboys lost to the San Francisco 49ers 19-12 in Sunday's divisional-round game. It was tough for Jerry to see their seventh unsuccessful playoff run since the 1995 Super Bowl. And fans think the billionaire has to make some tough choices.
With 'trade Dak Prescott' chants already floating in Cowboys Country, now the crosshair has shifted to head coach Mike McCarthy. Mike has now ended two consecutive seasons after suffering defeats at the hands of the Niners in the playoffs. And fans and experts think Jerry has to axe his head coach.
What is Jerry Jones planning for next season?
ADVERTISEMENT
Article continues below this ad
The Cowboys owner was hoping for a deep playoff run this year. With Dallas' dominating defense playing at a championship level, Jerry was right to be shocked at the offense crumbling under pressure.
ALSO READ: "That Boat Is Bigger Than 2 of My Houses Combined": Jerry Jones' $225 Million Yacht Is Giving Shaquille O'Neal and NFL Fans Nightmares
Dallas' defense held a potent Brock Purdy, Christian McCaffrey, and George Kittle offense to only touchdown play in the entire game. Purdy had no touchdowns for the first time in his 7-0 start. However, Dak Prescott's pick-heavy and turnovers laden night proved fatal to Jerry Jones' Lombardi dreams.
However, Jones still has a lot of faith in his quarterback and head coach.
On being asked if he planned to cut McCarthy, looking for a new HC, Jerry Jones replied, "No, not at all."
Fans and experts want Jerry to get Sean Payton
CBS Sports anchor for NFL coverage and sports-betting personality, Nick Kostos, thinks McCarthy's time is up at Jerry World. "The issue with Dallas? I actually think Jerry Jones needs to pull the plug on Mike McCarthy and go get Sean Payton. Because you're going to get in these spots, even if you have better players. But at the end of the game, you're with McCarthy having to make a big decision, and he never makes them. He always makes bad decisions. He's way too conservative," Kostos said on BetQL's 'You Better You Bet' podcast on Apple Podcasts.
ADVERTISEMENT
Article continues below this ad
This was referring to the 2021 wild-card game's final play call that led to the loss against the San Francisco 49ers. Instead of throwing the ball down the field, Dak ran it for a first down with less than 10 seconds on the clock. And Dallas fans everywhere were puzzled by McCarthy and Dak arriving at that decision.
ADVERTISEMENT
Article continues below this ad
WATCH THIS STORY: 80-year-old Jerry Jones shows vulnerable state in the middle of a radio interview
Dallas will be playoff favorites next year too with the star-studded defensive lineup. And with McCarthy's 28-19-0 record since joining the Cowboys in 2020, the former Super Bowl-winning Packers HC will have the numbers on his side if Jerry Jones changes his mind.
Edited By: Deepika Bhaduri