Jets Fans Get Berated by Zach Wilson's Mom Over "Toxic" Criticism
Published 12/25/2022, 5:24 PM EST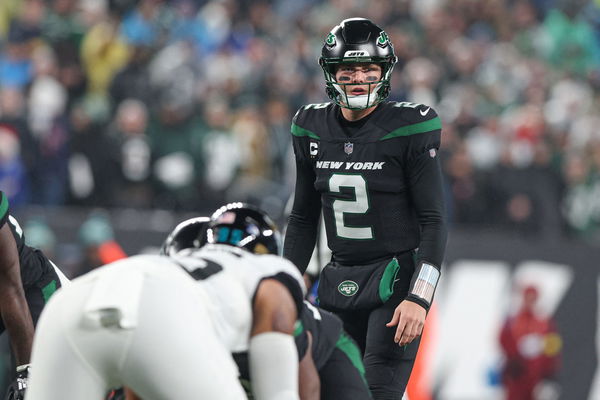 The Jets quarterback Zach Wilson perhaps had the last game of his season this Thursday. His terrible performance against the Jacksonville Jaguars provoked the fans to boo him, and subsequently benched for the second time this season. Well, this time, Wilson's mother didn't let things go as usual and instead took shots at the entire fanbase.
During the Week 16 game against New York Jets, Zach Wilson had a hard time rolling the ball downfield. His incompletions and inaccuracies became an added embarrassment that eventually irked the fans to call him out. His home crowd booed at him, asking head coach Robert Saleh for a better prospect.
ADVERTISEMENT
Article continues below this ad
Eventually, in the third quarter, Wilson got benched, and the team's practice squad member Chris Streveler replaced him at the center. Wilson could only rack up nine complete passes out of 18 attempts in 92 yards.
Moreover, Streveler's stunning performance almost diminished his return next season. All these turnarounds made one of the fans personally message Wilson's mother Lisa to cheer her up. However, things didn't go as expected, and she called out the entire Jets fan base as "Toxic."
Safe to say Zach Wilson won't be back with the Jets next season?

Lisa Wilson, Zach Wilson's mom, apparently referred to the Jets fan base as "toxic" in an Instagram DM to a fan. pic.twitter.com/b8AI56U15a

— Doug Rush (@TheDougRush) December 23, 2022
"It's not possible for anyone to be successful here. Your fan base is toxic. Merry Christmas." Lisa wrote as a reply in a leaked DM shared by sports writer Doug Rush. Meanwhile, Wilson, who took all these backlashes in a sportsman spirit, acknowledged his mistakes. "Yeah, it's [tough]," Wilson said of the booing fans.
"I don't blame them. We have a passionate fan base, and they're here to watch us score touchdowns. We're not scoring touchdowns, we're not getting first downs, we're not moving the ball, and obviously, we can't throw the ball. Of course, they're going to be frustrated." he added. Anyways fans realized that they had crossed the limits and shouldn't have personally attacked his mother.
Here's how the NFL world reacted to Lisa defending her son Zach Wilson
Well, it wasn't a pleasing moment at all. Getting booed by a large crowd certainly happens to be an embarrassment, something that Wilson's mother couldn't process. Fans had mixed reactions to her "Toxic" comment.
Leave the dudes family alone jesus

— The Buffalo Jet Fan (@BuffaloJetFan) December 23, 2022
They're not wrong… they boo before they cheer. Lame

— Ceazey (Card Life) (@ceazey) December 24, 2022
It's true though. No matter the coach, the QB, the money, the draft position, the one common denominator is the fans. They are brutal. But I think Saleh and Co. help change the culture too. Because this team deserves better.

— giulia12 💚 (@giulia12) December 24, 2022
ADVERTISEMENT
Article continues below this ad
ADVERTISEMENT
Article continues below this ad
With all these backlashes, it is yet to be seen whether the former second-overall pick continues to remain in the franchise. Anyways the chances of this happening are quite low.
Watch This Story: Tom Brady May Have Upset $155.8 Billion Worth Business Magnet With A Like On Twitter
Edited By: Deepika Bhaduri