Jimmy Garoppolo Makes It Clear Who Will Start as Niners' QB1
Published 09/09/2021, 11:27 AM EDT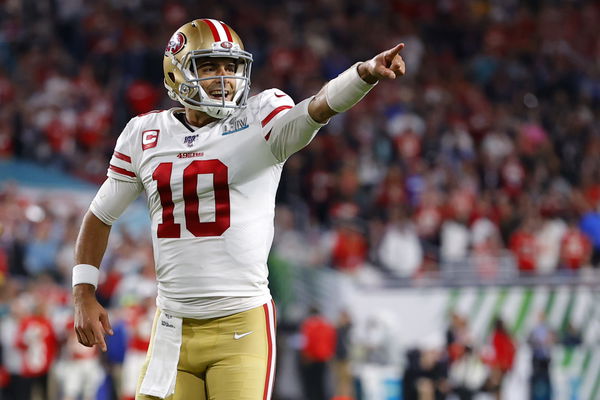 The head coach of the Niners, Mike Shanahan, made everyone scratch their heads with his scornful replies. His reluctance in revealing the QB1 spot of the team this season led to some mystery, as a quarterback is the most important player of the team.
Even though Jimmy Garoppolo was confident in his stance as the starting quarterback, few believed it to be the case. It was later this Tuesday with the release of the San Francisco 49ers' unofficial depth chart; it was revealed that Jimmy was right all along.
Jimmy Garoppolo as Niners' QB1
ADVERTISEMENT
Article continues below this ad
The depth chart places the 29-year-old quarterback as their numero uno, followed by Trey Lance grabbing the second-choice quarterback spot. Although the depth chart is still an unofficial announcement, it is almost certain of how the coach feels about the two quarterbacks.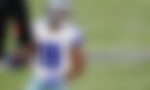 "I told you guys a long time ago, I had a pretty good feeling about it. Kind of joked about it, but yeah, I always kind of knew where I stood and everything. And yeah, now it's official, I guess," Garoppolo said.
The force is with Jimmy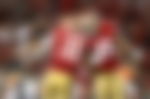 Even though the rookie quarterback Trey Lance has made impressions of his notable performances yet the decision proves that Jimmy has a lot of football left in him. As the team enters week 1, coach Shanahan is confident on Jimmy's hold as a quality player right now.
ADVERTISEMENT
Article continues below this ad
Shanahan has also announced that Jimmy is one of the seven team captains for the season. It postpones the hopes of those who want to see the franchise become future-proof. Furthermore, with Lance recovering from a finger injury, his presence in the week 1 match against Detroit Lions seems bleak.
Kyle Shanahan said he's "not sure yet" if 49ers QB Trey Lance will be available against the Lions on Sunday. Lance will be limited during today's practice and the team is hoping that he can take snaps/throw the ball.

— Niners Nation (@NinersNation) September 8, 2021
ADVERTISEMENT
Article continues below this ad
Jimmy Garoppolo has most certainly won the trust of the coach and his peers to emerge as the dominant competitor of the QB1 spot. He still has to prove his mettle in the gridiron from the very first week itself when the Niners meet the Lions at Ford Field.