JJ Watt Injury Update: Arizona Cardinals Get Massive Boost for Playoffs
Published 01/08/2022, 3:28 PM EST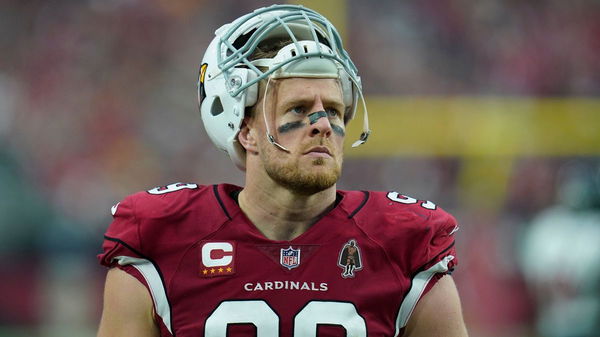 As the Arizona Cardinals prepare to face the Dallas Cowboys in the first week of the postseason, JJ Watt makes headlines to possibly return for the playoffs. The defensive end has been out since October 24, when during his game against the Houston Texans suffered a season-ending shoulder injury.
As per NFL Insider Ian Rapoport, Watt tore his labrum, his bicep, and his rotator cuff along with dislocating his shoulder. After going through surgery, the veteran was slated to have concluded his season thereon. However, recently the defensive end surprised the NFL with the news of his potential activation to the 53-man roster ahead of the postseason.
ADVERTISEMENT
Article continues below this ad
Surprisingly, this is not the first time that JJ Watt has pulled off a recovery just in the nick of time to make the playoffs after being diagnosed with a season-ending injury. Since back in 2019, he made it back in time for the postseason after recovering from a season-ending torn pec. And with that, he recreates a unique moment of his career.
JJ Watt, the definition of resilience
JJ Watt during his first season with the Cardinals has played only seven games in which he has recorded 16 combined tackles, one sack, and 10 quarterback hits. But has proven his resilience after making it way ahead of his schedule. And with that, everyone has been more than just impressed by the 32-year-old.
ADVERTISEMENT
Article continues below this ad
This would be the second time in JJ Watt's career that he suffered a season-ending injury only for him to return in the postseason. In 2019, he suffered a torn pec and then made it back in time for the postseason. https://t.co/jNLtabVdu1

— Ari Meirov (@MySportsUpdate) January 7, 2022
"He's done all he can do in the training room and weight room and then some, so we'll get him back out there and working him through some things," head coach Kliff Kingsbury said of JJ Watt. "But he's attacked that rehab just like you'd assume he would. Nobody's ever seen anybody go at it quite like he has over the last couple of months. So it's been awe-inspiring to watch him every day, and it's always good to have him back on the field."
ADVERTISEMENT
Article continues below this ad
Although the Cardinals have stumbled their way to the finish line this season. They still have a great chance to win big. And the addition of JJ Watt will just be a massive boost to the Arizona squad.