John Madden on His Life Around Football: 'I'm the Luckiest Guy in the World'
Published 12/30/2021, 3:40 PM EST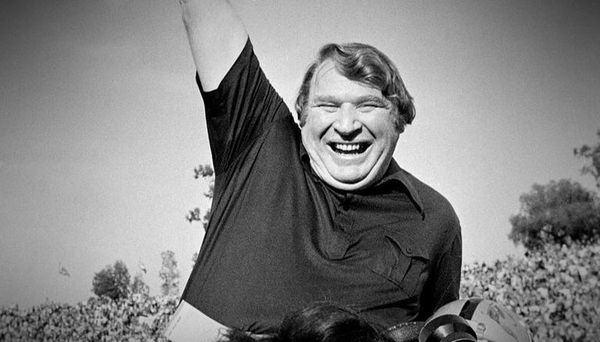 ---
---
The NFL has recently lost one of the shiniest stars in the community after the death of John Madden was announced. Madden has spent his whole life in and around the sport of football. His life story is no less than a Super Bowl that never ends. And when asked about his career, he simply took to his pride that he could never have lived a better one.
ADVERTISEMENT
Article continues below this ad
"I'm the luckiest guy in the world," Madden said. "I never really had a job. I was a football player, then a football coach, then a football broadcaster. It's been my life." His life has been no less than a fairytale. A fairytale that many would love to have. He made his name in the sport, and he lived his way through it.
ADVERTISEMENT
Article continues below this ad
John Madden in his earlier days as a football stud
Madden was born in Austin, Minnesota, in 1936. His father was an auto mechanic, and as a kid in school, Madden used to indulge in football. After graduating as a football star from Jefferson High School, he went to the University of Oregon after spending a season at the College of San Mateo.
Madden was drafted in the NFL in 1958 in the 21st round as a 244th overall by the Philadelphia Eagles. Unfortunately, his dream to play football professionally ended before he could even set foot on the gridiron. Madden picked up a knee injury in his first training camp with the Eagles, ending his career then and there.
A coach like no other
Madden was highly educated. He had earned a Master's degree in Education. But there was something about football that intrigued him. And so he set foot in the gridiron again, but this time as a coach. Madden started his coaching career in 1960 when he became the assistant coach at Allan Hancock College in Santa Maria. And then there was no turning back.
His coaching career proved to be very successful. He was gradually promoted as the head coach of Allan Hancock College. After, he gave brief stints as the defensive coordinator at the San Diego State and the linebacker coach at the Oakland Raiders. Madden retired as the Super Bowl XI-winning head coach of the Oakland Raiders in 1978.
A broadcaster the NFL will forever cherish
ADVERTISEMENT
Article continues below this ad
But that was not the end of Madden's football legacy. His obsession with football led him to become a broadcaster. And his career as a broadcaster became much more popular than his career as a player or a coach. He worked with many prominent broadcasters in that period (1979-2008), such as CBS Sports, Fox Sports, ABC Sports, and then finally NBC Sports.
ADVERTISEMENT
Article continues below this ad
Madden has left behind him a legacy and a life solely dedicated to the world of football. His days of glory will resonate in every stadium and will be looked upon by newer generation athletes. His name will forever be synonymous with the sport.