Josh Allen Responds To Patrick Mahomes' Throwing Contest Invitation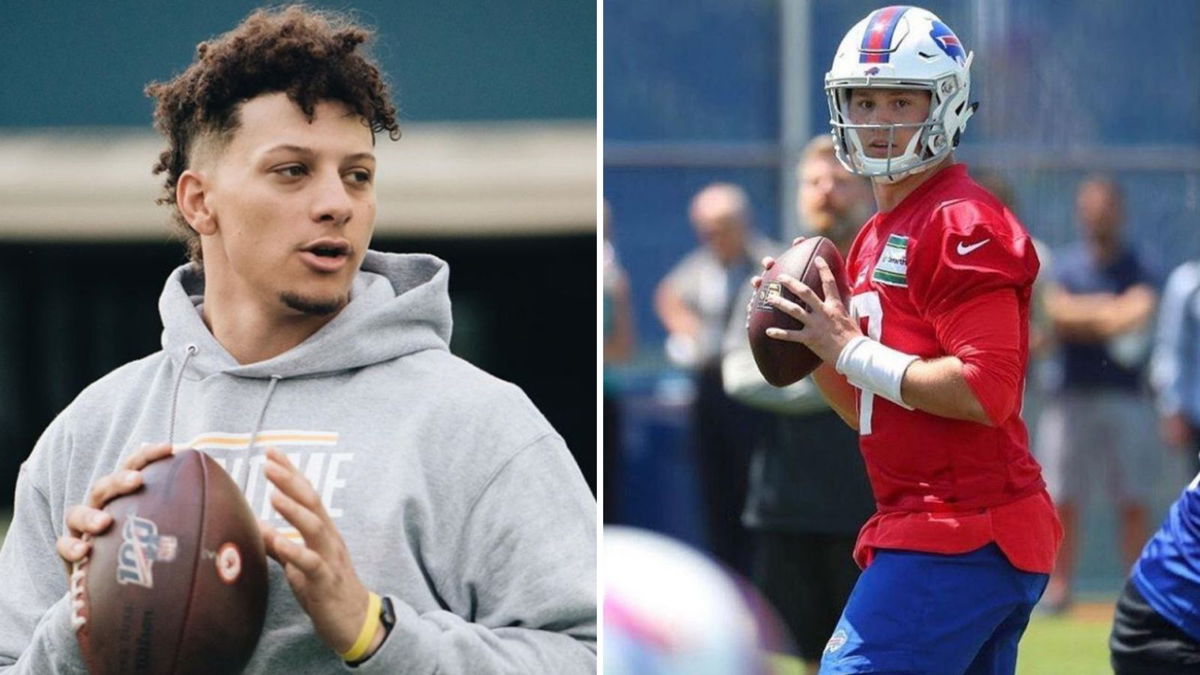 Josh Allen made his debut on the NFL Top 100 list earlier this year. The young Buffalo Bills quarterback came in at number 87 on the list after some impressive displays last season. He led the Buffalo-based franchise to the playoffs after they ended the regular season with a 10-6 record. However, Allen could not lead his team beyond the knockout stage as they lost to the Houston Texans in OT.
Allen threw for 3,089 yards in 2019, completing 20 passing TDs. He had a pass completion rate of 58.8 with nine interceptions all season. His on-field displays earned him a spot in the NFL Top 100 for the first time in his career. But what was more impressive was Allen's recent Madden NFL ratings.
The Wyoming-college graduate got a 77 overall rating in the latest edition of Madden NFL 21. However, what was more interesting was that Allen was given the highest Throw Power rating in the game – 99. That irked Super Bowl LIV MVP Patrick Mahomes who then went on to challenge Allen to a 'throwing contest'.
ALSO READ – "They Should be ashamed" – Analyst Wants Packers to Show Aaron Rodgers Some Respect
Will we see Josh Allen and Patrick Mahomes face-off in a throwing contest?
.@JoshAllenQB joined #GMFB to talk about player safety, 2019 Wild Card loss, @stefondiggs, what we can expect from the 2020 @BuffaloBills and so much more!

PLUS, he tells us if we'll ever see a distance throwing contest between him and @PatrickMahomes 👀 pic.twitter.com/TbnjLbD27o

— GMFB (@gmfb) August 5, 2020
Mahomes, who won the NFL MVP award in 2018, was the only quarterback to get a 99 overall rating in the latest edition of Madden NFL. However, he was not happy that Allen got a better throw power rating (99) as compared to his (97).
"Dude, obviously Josh has an extremely strong arm, but I've yet to see someone have a stronger arm than me. Maybe we can line up… I know we talked about maybe having a throw-off and then we can prove who really has the strongest arm. I have the ultimate belief in myself. He does have a strong arm, but if I put it out there like 80-85 yards… If he beats that he beats it," Mahomes said according to Syracuse.com.
On the recent segment of GMFB, Josh Allen responded to Mahomes' invitation saying he would be happy to join Mahomes for a throw off. However, the 24-year old insisted that the proceeds from the event must go to a charitable cause. What a fine young man!
ALSO READ – "It's no secret" – Packers Star Expected New Wide Receiver to Arrive This Season
SOURCE: GMFB Twitter, Syracruse.com