Josh Allen's Meteoric Rise Is Thanks to His Accuracy, Velocity and Leadership, Claims NFL Analyst 
Published 12/17/2020, 6:26 AM EST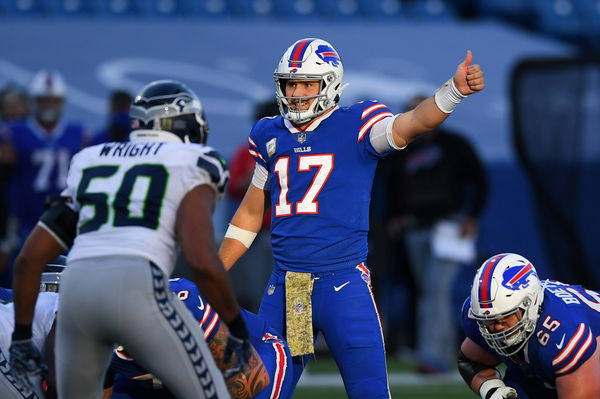 ---
---
Josh Allen has had a phenomenal 2020 season, and the stats speak for it. Allen's current season has been his best ever in the league. With 3,641 passing yards and 28 touchdowns in just a span of 13 games, Allen has taken the Bills to the top of the AFC East. Mind you, this the Belichick-Patriots AFC East we're talking about.
ADVERTISEMENT
Article continues below this ad
In just his third season in the league, the man drafted from the University of Wyoming has taken the Bills to their best start through 13 games since 1991. With a 10-3 record, their latest win also comes off as their most impressive. They beat the rampaging Pittsburgh Steelers 26-15. 
ADVERTISEMENT
Article continues below this ad
NFL analyst Peter Schrager, during a segment of NFL Network's GMFB, talked about a specific run of play from that game to dissect a Josh Allen touchdown.
Josh Allen and his laser arm
The specific play pulled up by Schrager involves a Josh Allen touchdown pass to Gabriel Davis. On 2nd and 7, at the Steelers 20 yard-line, Allen threw a razor-sharp pass to Gabriel Davis in the end zone for a Bills touchdown. 
"Josh Allen has thrown some lasers in this game…the touchdown pass to Gabriel Davis. You get to see a lot of touchdown passes, but when you break it down… The touchdown pass is a laser to Davis. It's not as easy to play as you think," said Schrager.
"Three Steelers defenders in the area, so you have to really thread this needle or have a laser for an arm. And look at this throw by Allen. Three defenders. Perfect, it's beautiful," he added.
Can Allen be the Bills' long-awaited franchise QB?
Josh Allen has taken his time to settle into the NFL landscape. But, after three seasons, the man from Firebaugh, California, is a star. The Bills have long awaited someone of Allen's calibre to lead their offense. With Stefon Diggs traded in to back up Allen's passing game, the quarterback has at times shown maturity beyond his years to get the Bills Mafia a 'W'.
ADVERTISEMENT
Article continues below this ad
"This is the stuff that Josh Allen is doing that he wasn't doing in Year 1 and Year 2. It's accuracy, it's velocity and it's the leadership," said Schrager as he said that these three were the mantra to Allen's success.
With the division now pretty much wrapped up, the Bills have their eyes set on the playoffs, where they'll be hoping to pull off a few upsets.
ADVERTISEMENT
Article continues below this ad
ALSO READ – NFC East: Which Team Could Make the Cut for the Playoffs