'Just Didn't Get it Done'- Dallas Cowboys Head Coach Mike McCarthy Weighs in on His Side's Defensive Frailties
Published 03/29/2021, 8:10 AM EDT
---
---
For the Dallas Cowboys, everything that could go wrong, did go wrong in 2020. Contract talks with star QB Dak Prescott stalled, injuries piled up by the day (including an early season-ender for Prescott), and the football team just couldn't find its mojo under new Head Coach Mick McCarthy. 
ADVERTISEMENT
Article continues below this ad
McCarthy who replaced Jason Garrett is a Super Bowl-winning Head Coach. He won his only ring while taking charge of the Green Bay Packers back in 2010.
Taking on a new challenge with the Dallas Cowboys, McCarthy was brought in to take the franchise back to the Super Bowl. Something they haven't been able to do in a quarter of a century. 
ADVERTISEMENT
Article continues below this ad
Looking back on a disappointing 2020 season, McCarthy talked in detail about his side's shortcomings. The franchise struggled, especially in defense. And McCarthy was quick to point out what exactly went wrong. 
Dallas Cowboys ended up trying too much
While the Dallas Cowboys were nothing special overall last season, their defense really let them down. The side allowed over 2,500 rushing yards and conceded a whopping 473 points through the course of the season.  
Interestingly, though, a lot of the players on the Cowboys D-line were part of the same team that gave up 321 points and 1,656 rushing yards the year before.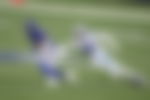 This prompted many to question as to what exactly went wrong. And Head Coach McCarthy believes he has the answer.
"We tried to change too much on defense if you're looking for a mistake," he said via the Dallas Morning News. "I don't think we made a mistake. We just didn't get it done. We went in with too much volume," he added.  
McCarthy though was quick to defend his former Defensive Coordinator Mike Nolan. "It's not just one guy," said McCarthy defending his former colleague who was fired following the 2020 season.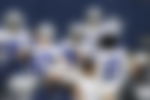 ADVERTISEMENT
Article continues below this ad
The Dallas Cowboys now have a new Defensive Coordinator in Dan Quinn. Quinn is remembered widely for his role as the Defensive Coordinator for the Seattle Seahawks during their 'Legion of Boom' defense back in 2013-14.
With Quinn as the new defensive play-caller, do you think the Dallas Cowboys will be tighter in defense come next season? 
ADVERTISEMENT
Article continues below this ad