"Making Comments Like This Are Very Very Concerning": Patrick Mahomes' Wife Brittany Matthews Goes Off On Trolls Received From NFL Twitter
Published 06/15/2022, 4:00 PM EDT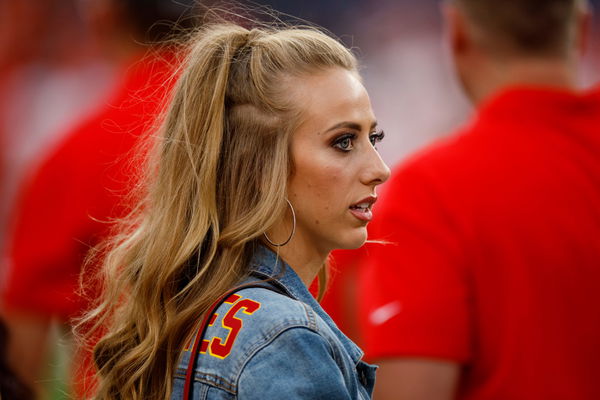 Patrick Mahomes' wife, Brittany Matthews, has been targeted on social media multiple times. Fans of other teams have always gone after the Mahomes family. Not only Brittany, but Jackson Mahomes, the brother of Patrick Mahomes, has also received various harsh messages over the years.
Recently, Brittany Matthews finally called out one of the people who tried to troll her. One person mentioned in the comments that he would kill himself if he was stuck with Brittany Matthews. The wife of the Chiefs' quarterback didn't hold back after seeing this statement.
ADVERTISEMENT
Article continues below this ad
Brittany Matthews responded to it and said, "Making comments like this are very very concerning but also highly inappropriate, 'Killing yourself' is not a term to just be throwing around like this. It's actually a very serious matter. People deal with these thoughts often. And it can be VERY TRIGGERING to some people." She added, "The culture and society in today's world can be extremely hurtful… please be aware when you say stuff like this and know it can affect a lot of people if they even read or see these words. Let's be better."
Patrick Mahomes will look to silence all his critics in the upcoming season
ADVERTISEMENT
Article continues below this ad
When the Kansas City Chiefs lost to the Cincinnati Bengals in the AFC Championship Game last season, many people targeted Mahomes and his family. The Chiefs' quarterback has transcended himself into one of the best quarterbacks in the league in such a short time, and it was evident that fans of other teams won't like him much. As a result, whenever Patrick Mahomes' has a bad performance or the Chiefs lose a game, he faces continuous criticism. As stated above, much of that hate is directed toward his family as well. Mahomes has a golden opportunity to silence all those critics in the upcoming season.
ADVERTISEMENT
Article continues below this ad
Many people believe the Chiefs aren't as strong as last season. Therefore, Mahomes can show his greatness once again. If he is able to lead the Chiefs to another Super Bowl without Tyreek Hill, that would be an outstanding achievement and would shut down his critics.
Watch This Story: "There Were Like A 1000 girls there": Gisele Bundchen Remembers Tough Initial Days Before She Married Tom Brady