NFL Insider Claims Tom Brady's Man in the Arena Has Fired Up Patrick Mahomes' Performances
Published 12/15/2021, 9:05 AM EST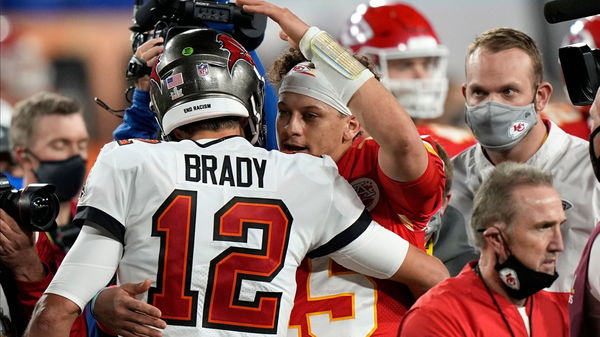 ---
---
Tom Brady's documentary Man in the Arena has inspired a lot of young aspiring football players and fans. ESPN+ produces and streams the documentary series. With a new episode out every week, we get an in-depth look at Tom Brady's life on and off-field. One of the young players who has been inspired by the series is Kansas City Chiefs star quarterback Patrick Mahomes. 
ADVERTISEMENT
Article continues below this ad
Tom Brady's documentary helped Patrick Mahomes improve his game
ADVERTISEMENT
Article continues below this ad
Brady and Mahomes are the cover stars of Madden 22. Both of them are phenomenal quarterbacks for their respective teams. We can see Patrick Mahomes talking about Tom Brady at every opportunity he gets. Mahomes talks about Brady with everybody around him. He likes Tom Brady because Brady wins, period. He is the greatest football player of all time. 
Seeing Tom Brady win every time, Patrick Mahomes has also created a similar mindset. Just like Brady, Mahomes also likes to think that winning is the only thing that matters. Throughout some recent matches, we have seen how the game of the young quarterback has changed. He is adapting to how the defense plays.
Mahomes likes to play a calm game and win. He does not want to hog all the glory for himself. Patrick wants to make an effort on the field and win the game. He does not want 500 yards and 5 touchdowns. He wants to cover the field and make sure his team wins at the end of the day. Mahomes is learning to be more patient. 
NFL insider talks to Mahomes
ADVERTISEMENT
Article continues below this ad
After the Las Vegas Raiders game, NFL insider James Palmer talked to Mahomes. Patrick Mahomes said, "I'm watching the documentary right now. I 100 percent know this about Brady." He adds, "This is what I'm doing because I've learned that it feels really good to throw 5 touchdowns, 400 yards, and win a game. It doesn't feel good at all to do that and lose. It feels even better to throw a 100 yards, 200 yards, and win the game."
ADVERTISEMENT
Article continues below this ad
Mahomes i s on the right path to success. His game has improved significantly, and he has been adapting to Tom Brady's style of play perfectly. Mahomes is still young. He is still just in his third season in the NFL. Mahomes is on a constant climb to stardom. Maybe Patrick Mahomes will find Tom Brady's level of success in the future.