Soccer Star, Fitness Enthusiast, and Patrick Mahomes' Number One Supporter- Here's What We Know about Brittany Matthews
Published 09/01/2020, 8:26 AM EDT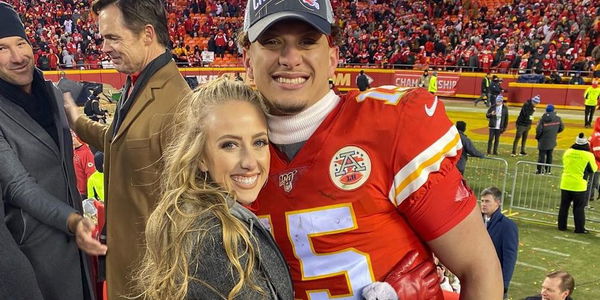 Brittany Matthews and Patrick Mahomes are among the most recognizable couples in the NFL today. The Kansas City Chiefs quarterback can perform at his best, as he knows that his number one supporter is always at close quarters and cheering him on in every single one of the Chiefs' offensive drives. 
At times Matthews gets the abuse from fans as she is the target in close quarters to the opposing fans. An unsavory incident took place at the Gillette Stadium last season, where she praised the New England Patriots' staff for helping her out. 
Kansas City won the game 23-13 with Mahomes passing for 283 yards and registering one touchdown. 
ADVERTISEMENT
Article continues below this ad
She shared her best friend's monumental Super Bowl LIV triumph in Miami seconds after the Chiefs players pulled on their customized t-shirts and basked in the glory of having achieved their lifelong dreams. They certainly 'fought for their right to party.'
Matthews has been with her "best friend" right from the time they were teenagers and journeyed with him every single step of the way. Hence, fans could comprehend the Vincent Lombardi Trophy marking a massive win for her, too. 
Brittany Matthews and Patrick Mahomes bonded in high school
The duo started as friends early in the 2010s. Mahomes has had Matthews by his side from the time he played as a quarterback for Whitehouse High School. Here is an image of Mahomes and Matthew in 2012 as a 17-year-old. She terms an almost unrecognizable Mahomes as her "best friend." It is a term she uses to describe him even today. 
Matthews was a regular at the Whitehouse football games and continued to support her best friend as he set the stage alight at the school level. 
The duo went for their high school prom together and didn't grow apart despite being in colleges in different parts of the state. Matthews is in her senior year prom in this post. 
Mahomes went to Texas Tech and played football as a quarterback and featured as a pitcher for the baseball team. Matthews attended UT Tyler, Texas, and played college soccer. Distance separated the duo, but Matthews showed up for his Red Raiders games whenever she could.
https://www.instagram.com/p/BNR9_YaAE0L/?igshid=gsxdo06onp10
Eventually, Patrick Mahomes transitioned purely to football and had a loyal supporter as he put in the yards in the NCAA.
Brittany Matthews pursued a college soccer journey and featured for the UT Tyler Patriots till her senior year in 2016. In 2014, the team made it to the NCAA tournament for the first time. 
Matthews proved to be quite adept and controlling the ball and possessed a mean left foot. However, this wasn't just showboating and tricks for the camera. Her skills saw her sign with a European soccer club for a few games. 
Brittany Matthews played professional soccer in Iceland
After college, Matthews signed a professional soccer contract and headed to Iceland to play for UMF Afturelding. Patrick Mahomes made the journey up north with her and spent a few days in Iceland ahead of the 2017 NFL season. 
https://www.instagram.com/p/BWSwdPplmg7/?utm_source=ig_web_copy_link
Matthews featured in five games for the club and wore the No.20 jersey. She helped them claim the championship in the 2nd division, i.e. 2. deild kvenna. As a result, the franchise earned a promotion to 1. deild kvenna for the 2018 season. 
All her appearances came in the final five games of the season. The 22-year-old scored two goals in her brief spell in Iceland. 
The first time she found the back of the net was in her debut with the club. Matthews came on as a 63rd-minute substitute and scored Afturelding/Fram's third goal against Álftanes. 
In the penultimate game against The White Knight on 2nd September 2017. Her strike was the sixth and final goal of Afturelding's 6-0 win. The game saw the team clinch the division with a week to spare.
Given her tendency to score after coming on midway through the game, we could label Matthews as an ideal super-sub. In the season-ending clash, Matthews started and got called to the bench after 71 minutes. The game marked the last time she played soccer competitively.
Following the season, she headed back home to cheer the Kansas City Chiefs and is a regular fixture at their games. The question at the forefront would be why didn't Matthews return to Iceland to play in the 1.deild kvenna. Her time in sports led her to find her calling elsewhere, and she donned a new hat. 
Brittany Matthews: The fitness trainer
Brittany Matthews claimed to have found a new passion for conditioning herself for sports. On her website, she says, "Playing sports my whole life got me into fitness and playing in college taught me about strength training, wellness and maintaining peak fitness to perform at an elite level."
She holds a degree in kinesiology and has experience in sports. Hence, she combined her skill sets and became a fitness trainer. 
Habits do not die with Matthews tailoring her videos to help individuals stay fit even during the 2020s coronavirus pandemic. 
Her videos are accompanied by a detailed step-by-step instruction of the day's exercise, which makes it easy for followers to understand and replicate.
However, she offers programs tailored to individual requirements. The three offered at 'Brittany Lynne Fitness' are 'TRAIN with BRITT', 'BOOTY by BRITT', 'HIIT with BRITT'.
Matthews' schedule as a fitness trainer gives her constant time to be by her best friend's side as he thrills NFL fans across the country. 
Patrick Mahomes' No.1 and constant fan
Matthews is a constant presence at 'Chiefs Kingdom' both at the Arrowhead stadium or when the team is on the road. 
She was present at the game against Indianapolis Colts on October 6, 2019. Here, Mahomes threw one touchdown pass but couldn't help his side to victory. This was the side's first of four defeats in the entire 2019 campaign. Her caption, "More wins to come" came true in a big way. 
She was also present on a snowy day in Kansas on December 15, when 'The Chiefs' annihilated the Denver Broncos 23-3. Matthews is the first one Mahomes embraces as his teammates still walk around the field. On the day, he passed for 340 yards and threw two touchdowns. 
She also featured at Mahomes' comeback performance against in the playoffs against Houston Texans, where Kansas faced a ten-point deficit. Here, the quarterback unleashed havoc on the Texans defense and totaled five touchdowns.
Mahomes' scintillating post-season earned him the largest contract in NFL history, and even in celebration, Matthews referred to Mahomes as "best-friend."
ADVERTISEMENT
Article continues below this ad
The way they perceive each other has not changed one bit right from the teenaged days to now, where they are the toast of Missouri and perhaps the entire nation. Mahomes turned his Super Bowl ring celebration day into proposal day and changed the status of his best friend to his fiance. 
The young couple is engaged to be married. They have it all going for them with a magnificent house, thriving careers, and wonderful companionship. 
ADVERTISEMENT
Article continues below this ad
Read: Where Does Super Bowl LIV MVP Patrick Mahomes Live? Here's All We Know About the Quarterback's House