Patrick Mahomes Has a Lot to say About Week 11 Rival Dak Prescott
Published 11/21/2021, 8:25 AM EST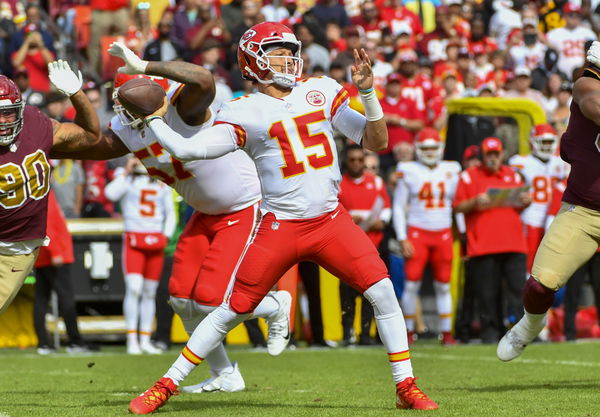 ---
---
This Sunday's week 11 fixture will be a real treat for NFL fans. America's team, The Dallas Cowboys, will face off against the Kansas City Chiefs. What this means is, not only will we see two of the NFL elites battle, but also their quarterbacks. These teams have two young, talented, and the most paid QBs in the League. Patrick Mahomes and Dak Prescott. The match at the Arrow Stadium is definitely the one to look out for. 
ADVERTISEMENT
Article continues below this ad
Patrick Mahomes and Dak Prescott have mutual respect for each other
ADVERTISEMENT
Article continues below this ad
When asked about his opinion on Dak Prescott, Patrick Mahomes said, "He's a tremendous leader, he's been a starter in the league for a long time now, he's athletic, you can see that by the way he played in college and he can make a lot of big-time throws," Mahomes continues, "They have a great offense over there, they have a great team over there. It will be a great challenge for us to go up against them this week." It seems like Mahomes is looking forward to meeting Prescott this Sunday.
Prescott has said that he learns from watching other talented quarterbacks in the league, including Patrick Mahomes. "Just his competitiveness. He never believes he's out of a game, thinks he can make every throw. And I think that's huge at this position just to have that confidence." Dak adds, "He's a big-time playmaker. He's a great player. MVP obviously, Super Bowl MVP. Special talent." 
ADVERTISEMENT
Article continues below this ad
At just the age of 26, Mahomes has won a Super Bowl. Been a Super Bowl and League MVP. The Chiefs are on a three-game winning streak after a tremendous 41-14 victory over the Raiders this past Sunday. 
Prescott, at the age of 28, has led America's team by starting 8 times, with a passer rating of 110.8. He surpasses all starters. Dak has led the Cowboys to a 7-2 start, second only to the Arizona Cardinals and Green Bay Packers (8-2) for the best record in the NFC.
ADVERTISEMENT
Article continues below this ad
Ever since Dak Prescott and Patrick Mahomes have joined the NFL, the Chiefs and the Cowboys have only faced each other once. Back then, the veteran Alex Smith was leading the Chiefs. Mahomes was his backup rookie quarterback. In Dallas, Dak was in his second year with the Cowboys. With the eventual MVP on the sidelines, he led his team to a 28-17 win. Both of the players have come a long way ever since. With both Mahomes and Prescott in their prime, this Sunday's game will be a true spectacle.