WATCH: A Wholesome Video of Tyrann Mathieu Handing Out Turkeys for Thanksgiving
Published 11/23/2021, 11:47 AM EST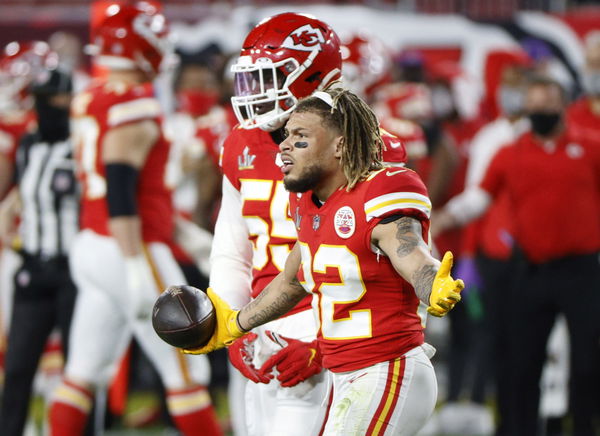 ---
---
Kansas City Chiefs Safety Tyrann Mathieu priorities Safety both on and off field. The KC Chiefs' player is known to prioritise the welfare of the needy. His recent act of kindness just proved that once again.
ADVERTISEMENT
Article continues below this ad
Tyrann Mathieu continues his holiday tradition of handing out turkeys
ADVERTISEMENT
Article continues below this ad
Kansas City Chiefs safety, Tyrann Mathieu, handed out turkeys to families in need on Monday, hoping to help as many people in his neighbourhood as possible. It's a holiday ritual he's been doing since before he joined the club. In 2019, he held his first Thanksgiving celebration in Kansas City.
Food insecurity is a rising problem in the Kansas area. While there is still a lot of work to be done to address the underlying systemic issues that create it, the KC Chiefs player's contribution is a step in the right direction. His donation of roughly 500 birds helped a lot of people who may otherwise have gone hungry this Thanksgiving.
Inspired defensive display helps the Kansas City Chiefs win yet another bout against a top-ranked team
ADVERTISEMENT
Article continues below this ad
The Chiefs have been on a roll since the past few weeks. While the team needs credit for their smashing results, one cannot overlook the defensive solidity they have displayed. In back-to-back weeks, the Chiefs shut down Daniel Jones and Jordan Love. They also stifled Derek Carr and the Raiders' fifth-ranked offense, thus showing that it is not a one-off.
But 2 nights ago was the Chiefs defense' biggest defense as the Cowboys had the league's best offensive entering Sunday–by a long shot. For starters, they had a 433-yard per-game average. Unfortunately for them, they threw for a measly 276 yards (most of it on a last drive), turned the ball over three times, and never got their passing or run game working. Say whatever you want about the impact Patrick Mahomes has on the Chiefs, but these herculean performances by the Chiefs' defence can no longer be ignored.
Keep it up Tyrann. Proud of you!
ADVERTISEMENT
Article continues below this ad