WATCH: Patrick Mahomes Appears 'Broken' in Brother's TikTok Video and Chiefs Fans Have Had Enough
Published 10/30/2021, 7:21 AM EDT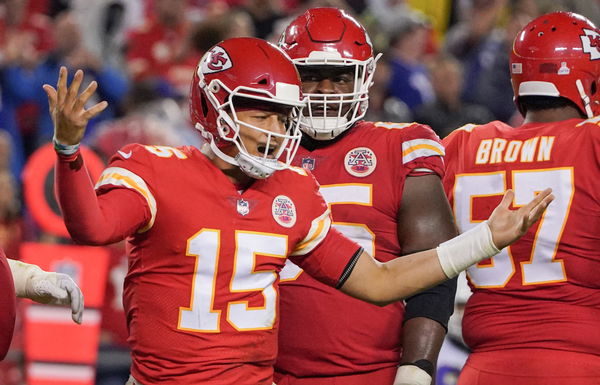 ---
---
The Kansas City Chiefs are on a severe downfall with a 3-4 run so far this season and Patrick Mahomes cannot take it anymore. The star athlete is certainly experiencing the bitter taste of aggravation for the first time in his NFL career.
ADVERTISEMENT
Article continues below this ad
And in a recent TikTok video by his brother Jackson, we clearly see the quarterback is exhausted with his life. As evidently, both his team and his family have been on a different playing field lately.
ADVERTISEMENT
Article continues below this ad
Is Patrick Mahomes sick of his family?
In one of the surfaced TikTok videos, we can clearly see Patrick uninterested and unamused at the dinner table in a restaurant while his fiancee Brittany and brother Jackson randomly decided to film themselves doing trendy moves. And Patrick while eating his chips raised his hand as if he wanted to say, "what, you kidding me?"
In another video, the Brittany was seen twerking while Jackson showcased some of the trendy moves, but Patrick sat quietly facing the other side, focusing on his food and hoping his family to do the same. Obviously, Mahomes has been in a devastating mood lately and his family seems to make it even worse.
The Chiefs have been on a massive downtrend this season. But the quarterback's brother and fiancee do not seem to miss any of the trends on TikTok, instead of consoling him.
Mahomes needs to cheer up
ADVERTISEMENT
Article continues below this ad
The Kansas City Chiefs quarterback seems to be dead inside, and he desperately needs to rejuvenate his senses. Because of constant failures in the gridiron and negative press around his family, many can claim Mahomes is deep in thought. The only things running through his head right now is his failed season with the Chiefs.
The Mahomes family has had beef with fans, opponent players, criticism for referees and even a physical confrontation with an opposing fan. They have only done the complete opposite of what a supportive family does. Fans on Twitter are even calling for Mahomes to split from the circle.
ADVERTISEMENT
Article continues below this ad
With the mighty Green Bay Packers coming up next, it is time for Mahomes to find his A-game. It's about time the issues with his family and brother especially take a backseat, and football occupies the most headspace.