"Kelce Is Just Scared…": Fans Catch Rob Gronkowski Seemingly Intimidating Travis Kelce on His Podcast After Showing Keen Interest in Chiefs Biggest Super Bowl Obstacle
Published 01/18/2023, 10:15 AM EST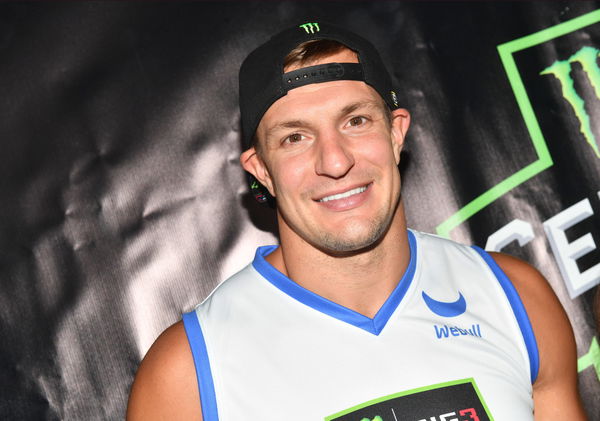 The four-time Super Bowl-winning tight end Rob Gronkowski retired from football and has been living his best life. While the Tampa Bay Buccaneers crashed and burned in the Wild Card Round, we can only assume that Gronkowski shared the pain that his former teammate, Tom Brady, felt. Throughout the season, fans noticed that Brady missed his buddy. However, Rob confessed to planning to move on to this year's AFC East champions. 
The 33-year-old has multiple accolades and records to his name. He's an accomplished player who would want to advance to a powerful roster.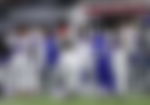 ADVERTISEMENT
Article continues below this ad
And Buffalo Bills showed they are strong as they became a dangerous competitor since the season started. The Bills played very well this season, but that didn't come with dangerous obstacles like Damar Hamlin's horrific collapse. 
Rob Gronkowski made a wild confession 
On the New Heights Podcast, hosted by Travis and Jason Kelce, Gronk revealed that he very much wanted to be a part of the Bills. His desire to play with them isn't surprising given he grew up seventeen minutes away from Buffalo. 
 

View this post on Instagram

 
He said, "Now I'm retired again, so I wanna bring this back up. I'm kind of a Buffalo Bills fan again. Now that I'm not playing no more, I'm like, 'Dang.' I thought about that, how cool it would be to play for the Buffalo Bills. I actually thought about it…I was actually in talks with the Buffalo Bills a little bit. They wanted me to come up there, but it just wasn't there though. If my mindset was there, I would probably most likely be in Buffalo right now playing with the Bills" Of course, fans could not contain themselves and reacted to his unheard admission.
ADVERTISEMENT
Article continues below this ad
Fans react to Gronk's desire to play for the Bills
One fan thought Gronk's admission made Travis Kelce scared. They commented, "Kelce is just scared gronk will beat him in the playoffs."
Another fan thought Bills QB Josh Allen and the star TE would have made a great team "that Allen to Gronk connection would've been crazyyy." Some fans also thought that Rob would have brought insane skills and great possibilities to the team: "Gronk would be GROSS on that team plus adds the leadership and pedigree on offense, man what could have been" Another fan said, "Kelce funny as shit, thank God he ain't go to the Bills."
ADVERTISEMENT
Article continues below this ad
When the Bills and the Chiefs went against each other the last time, Kansas City saw defeat. Therefore, having one of the best TE on the Bills would have made their team even more vicious. And seeing him battle another best tight end would be just the cherry on the icing.
Watch this story: Tom Brady Went to The Same High School As This Controversial MLB Hall of Famer Who Was Also A 14x All-Star
Edited By: Deepika Bhaduri