Kevin Durant Wants Us to Put Respect on Antonio Brown's Name
Published 12/27/2021, 8:44 AM EST

Follow Us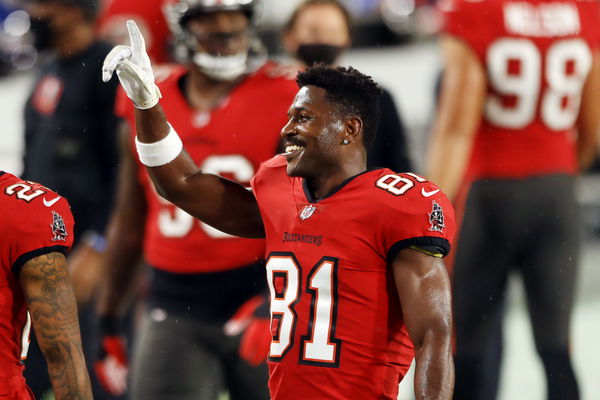 The Tampa Bay Buccaneers have clinched the NFC South for the first time since 2007. And they made it happen with over 60 percent of their offense sidelined. It was because of Tom Brady that the team was able to create results even though playing with new players.
One of the biggest impacts in the game was of the newly active Antonio Brown. Brown, after being back from suspension, was put straight on the gridiron. His presence was much needed since the Bucs have lost Mike Evans and Chris Godwin to injury. Which was sustained during the 0-9 Saints shutout.
Kevin Durant praises Antonio Brown
Brown during the game recorded 101 yards for 10 receptions with an average of 10.1 yards per carry. And his exceptional spell was praised by the NBA star and Brooklyn Nets small forward Kevin Durant. "Antonio Brown has had a legendary career as a 6th round pick. Gold jacket that man," he said.
When asked about the assistance provided by Antonio during the game, Tom Brady replied, "AB played great, just like he always does. We needed him with Mike out, Chris out, BP out." It was crucial for Brown to play against the Vikings. Since they after being shut out by the Saints, this was their second chance they had to clinch the division supremacy.
Antonio Brown has had a legendary career as a 6th round pick. Gold jacket that man

— Kevin Durant (@KDTrey5) December 26, 2021
It was a remarkable night for the Bucs, as it took 14 seasons for them to claim the No. 1 spot in the NFC South division. And Brown helped the team do that. The receiver was suspended for three straight games after being held for providing fake vaccination status. But now that he is back, he has got to play a bigger role in his receiving game.
Brown has proven his deserving claim to the Golden Jacket throughout the season. And it has most certainly be noticed by athletes across different sports, like Kevin Durant from NBA.