Chargers HC Brandon Staley Wants Justin Herbert To Emulate Tom Brady & Aaron Rodgers' Coaching Aspect
Published 06/20/2021, 11:22 AM EDT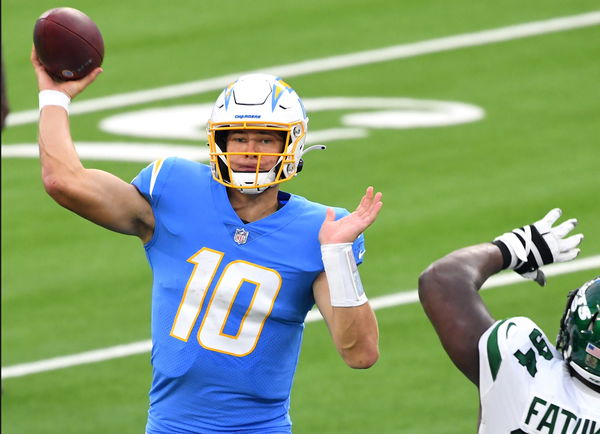 ---
---
The LA Chargers had a lackluster 2020 campaign. Failing to qualify for the playoffs, the side had very few bright spots to show for. But undoubtedly the one that shone brightest was the showing of their rookie quarterback Justin Herbert.
ADVERTISEMENT
Article continues below this ad
With 31 touchdowns, Herbert broke the all-time record held for touchdowns by a quarterback in his rookie campaign. Barring touchdowns, Herbert garnered over 4,000 passing yards as well to be named the 2020 NFL Offensive Rookie of the Year.
ADVERTISEMENT
Article continues below this ad
While Herbert impressed, the franchise brought about sweeping changes to their coaching staff ahead of the 2021 season. And new Head Coach Brandon Staley has already stated his demands from his young quarterback.
Justin Herbert urged to master the mental aspect of the game
Talking to the SI.com, Staley underlined what he expects of his young quarterback in 2021. While Herbert's physical skill set is not one to be doubted, Staley wants Herbert to emulate Aaron Rodgers and Tom Brady's mental approach to the game. Especially, their ability to take on spot decisions without help from their coaching staff.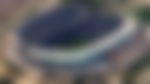 "They (Brady and Rodgers) can operate much more effectively, because they don't need that extra someone telling them what to do," said Staley.
"What makes those two guys specifically unique is that you're eliminating one of the variables in the equation," Staley added.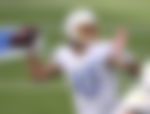 Brady and Rodgers have mastered the art of reading NFL defenses over the years. And Staley wants his young quarterback to pick up that skill to take his game to the next level.
ADVERTISEMENT
Article continues below this ad
"When they don't need the coach, when they are the coach, that's a much more dangerous person to have to defend, because you're not waiting for the coach to help them. They know how to help themselves. And that's what I think we're trying to achieve."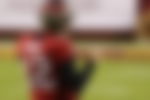 ADVERTISEMENT
Article continues below this ad
It won't be fair on Herbert to pick up the craft in just his second season. After all, Brady and Rodgers are veterans who have been around for plenty of years. But taking small steps towards reaching their level of understanding will help the young QB a long way in his pursuit of a Super Bowl.