Lakers Star Carmelo Anthony Impressed By Tom Brady Comparison
Published 01/13/2022, 2:08 PM EST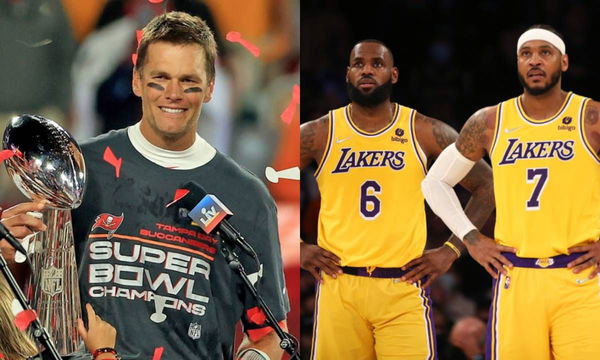 ---
---
LeBron James took motivation from the NFL icon Tom Brady while addressing his revamped Los Angeles Lakers squad. He took the inspiration from the 2020 Tampa Bay Buccaneers to get the hype up well before the season started. The Lakers during the offseason made some dramatic changes in their team, and that comparison helped the team be a 'Team.'
ADVERTISEMENT
Article continues below this ad
Tom Brady's 2020 season was no less of a surprise to the NFL. After being signed by the Bucs, the then six-time Super Bowl winner had a point to prove that he was not a mere result of Bill Belichick; Rather, it was quite the opposite. The Bucs, in their first 12 games, went 7-5. The NFL believed that the quarterback was no good outside New England Patriots. But then the magic started to happen.
ADVERTISEMENT
Article continues below this ad
The Bucs started to gear up later on as they went undefeated the rest of the season. The NFL was awe-struck when Brady claimed his seventh Super Bowl with a 31-9 win against the KC Chiefs. Yet this time without the likes of Bill Belichick. It was the perfect season that LeBron could refer to when motivating the Lakers.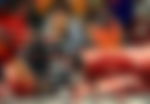 The LA Lakers signed Russell Westbrook during the offseason and added other veterans like Carmelo Anthony, Dwight Howard, DeAndre Jordan, and Trevor Ariza to the squad. And to bring them together as a team, the Bucs 2020 season was the perfect story to tell.
Carmelo Anthony on the Tom Brady comparison
"It's a great comparison. It's something that we look forward to. We listen to it, we hear it. It's a great comparison," Anthony said. "I don't think it's something that we think about on a daily basis. We just have some type of analogy to compare it to, and what better team and what better situation to compare it to than what the Bucs did last year?"
Carmelo Anthony Reveals LeBron James Compares Current Lakers Squad to Tom Brady's Buccaneers: "What Made It Beautiful for the Bucs Is That Once It Came Together, It Came Together" https://t.co/xPI1vukWfG

— EssentiallySports (@es_sportsnews) January 13, 2022
"Just from the standpoint of starting off slow and having new guys on the team. New system. Guys trying to figure it out, guys trying to figure out how to play with LeBron and [Anthony Davis] and now incorporating Russ and just now everybody figuring out what their role is," he told reporters on a video conference call. "And what made it beautiful for the Bucs is that once it came together, it came together and you saw what happened with that."
ADVERTISEMENT
Article continues below this ad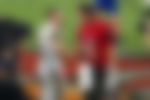 It surely is a great moment to derive inspiration from. After all, it was a Tom Brady moment. How can it not inspire others? The 44-year-old is still in his zone to prove himself. And he will not stop until he owns the whole league, which he actually does in most cases.
ADVERTISEMENT
Article continues below this ad
Do you think Tom Brady can pull off another Super Bowl win this season? Let us know in the comments down below!
Watch Stories: From Tom Brady to Rob Gronkowski; NFL Veterans Who Shouldn't Retire Soon